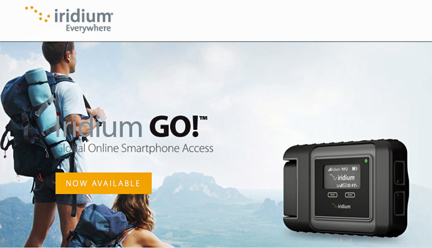 [SatNews] Iridium Communications Inc. (Nasdaq:IRDM) now offers broad availability of the world's first, truly global, mobile satellite hotspot.
The new Iridium GO!™ connects to smartphones and tablets by creating a satellite-based Wi-Fi zone, dramatically extending voice and data coverage of these devices when they are out of range of terrestrial networks. This first of its kind product is also the lowest cost device and service offering that Iridium has ever made, making global connectivity more affordable than ever. Iridium GO! is well suited for uses ranging from adventure travelers to remote, off-the-grid workers in industries such as aviation and maritime. Supporting a variety of specialty applications, such as customizable global weather forecasts and enterprise applications that can track vehicles and vessels across the globe. Two free applications are available to download on smartphone and tablets: Iridium GO!, which supports voice calls, texting and other key functions, and Iridium Mail & Web for email, weather, web and social media access.
By using the Iridium GO! apps on their smartphone or tablet, individuals can connect as many as five devices over a Wi-fi connection on the Iridium network to make voice calls, text, interact with social media, surf the web, send their precise location to family and friends and even report a personal emergency through an integrated SOS service available after registration with GEOS. Like Iridium's satellite phones, Iridium GO! is designed to be rugged; it is built to withstand rain, sand, dust and rough use. The included SOS functionality enables a fast, two-way connection with an emergency provider - bringing peace of mind anywhere in the world. With one of the smallest form-factors in the industry, Iridium GO! is highly portable, providing a Wi-Fi network with a coverage radius of 100 feet (30 meters). In addition, Iridium GO! is Iridium NEXT-ready; it works on the current satellite network as well as the new Iridium NEXT satellites that are scheduled to begin launching in 2015.
Concurrent with the availability of Iridium GO!, the company has also launched a developers' program and provides a software developer's kit (SDK), along with a certification program, for third parties wishing to develop or adapt applications to work through the Iridium GO! platform and the Iridium satellite network. More than 25 developers in vertical industries, including maritime and aviation, have already signed on to create applications that are uniquely suited for Iridium GO!. Applications currently in development or available include OCENS Grib Explorer Plus, which transforms GRIB and classical weather, ocean and fishing data into interactive decision tools; McMurdo Group's Fleet Management Software, which enables communication of critical information and the ability to conduct business operations from anywhere on the ship, anywhere in the world; and Global Marine Networks (GMN) XGate, which optimizes email services for maritime use.
"Iridium GO! enables people to use their smartphones and tablets when they are outside of cellular coverage through the complete global reach of the Iridium(R) network," said Bryan Hartin, executive vice president, sales and marketing, Iridium. "Additionally, the Iridium GO! platform is unique in the control it provides iOS and Android app developers. No other satellite provider offers a program like this that allows app developers to manage their access with the Iridium network."
Iridium GO! is now available for purchase through Iridium's launch partners and their global distributors. A number of accessories, including carry bag, external remote antenna, and extra batteries have been designed to accompany the product and are available separately.
For more information on Iridium GO! and how to purchase your own device, go to http://www.iridiumgo.com/.