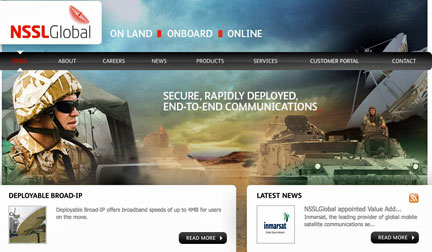 [SatNews] NSSLGlobal Ltd. opened a new office in the Asian hub...
...of Singapore on April 15, 2013. The office is a result of NSSLGlobal's expansion and continued commitment to support key clients at a regional level. Business in the Asian market has grown steadily in the past few years for NSSLGlobal. Having already expanded into the region through a number of clients, the global service provider was confident the time was right to create a local facility with both sales and technical resources.
Sally-Anne Ray, Chief Operations Officer at NSSLGlobal Ltd, said, "As our first office in the Far East, it's an important step in the progression of NSSLGlobal. With a good infrastructure and easy access to the surrounding regions, the opening of our new Singapore office provides the perfect base to support our growing Asia Pacific customers, who require a company to manage their account within their own time zone. We see this as another step in our commitment to invest time and money in the market."
Priya Patel, who has been with the company since 2000 and has more than seven years' experience in developing and supporting customers in Asia Pacific, will be stationed at the office with the new role of 'General Manager—Singapore'.
In addition to the Singapore office, NSSLGlobal Ltd. has recently opened an office in Cornwall, U.K., as the company continues to expand. The new office will serve as an important back-up and disaster recovery centre to the main headquarters, ensuring an uninterrupted 24 hour, 7 day a week network operation centre (NOC) for all customers, and enable NSSLGlobal to take advantage of the large skill set of maritime and land professionals within the area. The two new offices are part of the company's continued efforts to provide the best and most effective services to its customers.