[SatNews] Advantech Wireless Inc. has released the firm's new 10kW S-band Solid State Pulse Amplifier.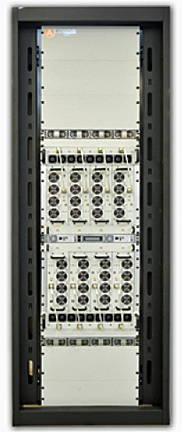 The new 10kW S-band Solid State Pulse Amplifier from Advantech Wireless is fully modular and operates over the band of 2.7 to 2.9GHz and includes built-in features, such as duty cycle monitor and pulse width monitor to ensure trouble free operation. These new GaN based SSPAs are designed to be used in military and civilian radar systems, as direct replacement of older generation Klystrons or TWTs. The most vital feature is its modular design. It allows plug in modules, as power supplies and RF modules to be hot-swapped without any interruption of service or noticeable reduction in power.
"The advantage of solid state design over tubes and klystron technology is that this technology is much better suited for mobile applications. It is more rugged and not prone to damage in transit. It also contributes to increased reliability and ease of maintenance," stated Cristi Damian, VP Business Development at Advantech Wireless. "We are proud to develop best in class innovations in radar technology. Our product development, technical and engineering capabilities allow us to help our customers achieve best performance and maximize ROI by providing them with complete customized solutions."
The design of the 10kW S-band GaN based Solid State Pulse Amplifier is based on Advantech Wireless' tradition of high power and high efficiency line of amplifiers. With an RF chassis, containing up to eight 1.5 kW pulse amplifier modules it also features Advantech Wireless' state of the art remote monitoring and control systems.
Built in Redundant Input/Driver Module
S-band high power combiner
Built in Power supply modular package
Duty Cycle monitor system
For further information please visit: http://www.advantechwireless.com/