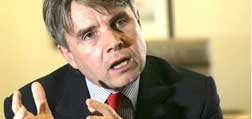 Surrey Satellite Technology Ltd. (SSTL) believes that the publication of the Space "Innovation and Growth Strategy" document announced today by Lord Drayson is a welcomed initiative that will act as a catalyst to generating much needed additional business for the UK space industry and simulate the expansion of the small satellite sector.
The global space sector has grown at about 9 percent per year during the last decade. However, in the UK SSTL has reported a growth rate of 20 percent,
almost all of which are export earnings
. This is a reflection of
Britain's vibrant and innovative space industry
and highlights the huge growth potential of the sector for the UK.
Sir Martin Sweeting
,
SSTL's founder and Chairman
stated, "The
Innovation and Growth Strategy
identifies
Space as a major business opportunity for the UK
. We must ensure that the UK does not miss out on the
stellar growth that this sector is likely to achieve over the next 20 years
. The UK economy must continue to grow and space is an industry where we can demonstrate our successful high-tech track record."
SSTL fully supports the report's recommendations
and is, above all, pleased to see the well-defined proposals for a national program of technology development and demonstration missions, as well as the procurement of a UK Earth Observation system.  
The UK government initiatives in the early part of the decade certainly helped SSTL transform into the global leader in small satellites. Thanks to a government initiative known as
MOSAIC
, the UK small satellite industry was able to
develop and demonstrate the technologies which led to the creation of the international Disaster Monitoring Constellation and the development of RapidEye, the world's first commercial small satellite Earth observation system
. The MOSAIC investment in SSTL has already directly led to over £100 million of export orders — a return of 10:1 for the UK.