[SatNews] KRONEHIT, Austria's only nationwide private radio broadcaster, has implemented a new satellite DVB-S system to provide better and more efficient coverage to listeners in the mountainous south and west of the country.
Using 2wcom's FlexSource IRDs, KRONEHIT has developed a resilient contribution network via satellite with robust redundancy and in-band control of remote installations using 2wcom's SIRC capability.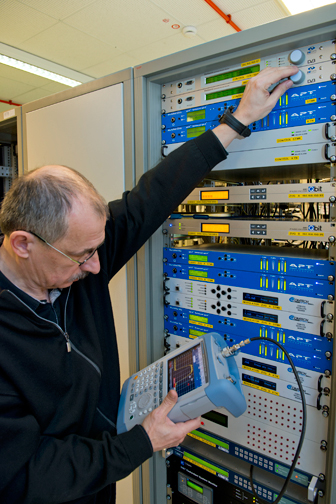 In 2013 KRONEHIT began to implement a new satellite remote-controlled system for DVB-S services via Astra 3B, with QPSK 1/3 FEC modulation and APT-X audio coding. In addition to the satellite reception, the receivers were to be linked terrestrially over IP for browser-based control and configuration. Because of the remote location of many of the transmitters, KRONEHIT sought rugged receivers without additional fans or moving parts, that could also be operated directly through the control panel on the front of the unit, without requiring additional equipment. Deployment to all six provinces took place during 2013, and KRONEHIT is now able to make any necessary operational changes and configurations remotely via the FlexSource's in-built SIRC (Satellite Inband Remote Control) Management System.

2wcom's FlexSource Distribution Receiver Decoder offers an extremely flexible means of implementing redundancy, by selecting from a variety of input sources, including Tuner Transport Stream, ASI, IP 1000 Base-T, Audio over IP and audio files uploaded to the internal storage. Up to three backup sources can be defined, allowing seamless transition from the main source to the best available backup in the case of input failure.
More information about 2wcom and its products is available at http://www.2wcom.com/