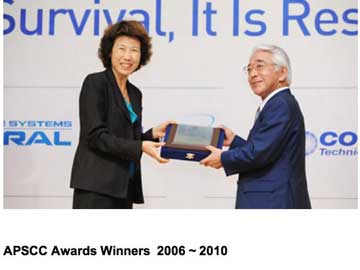 [SatNews] APSCC's 2011's theme is All Eyes On Satellites, and the event will be held at the Island of God, Bali, Indonesia.
APSCC will hold its annual Asia-Pacific Satellite Communications, Broadcasting and Space Conference and Exhibition (APSCC 2011), an international festival of the satellite and the space-related industries, from September 27 to 29 in Bali, Indonesia.
This is the
14th annual conference of APSCC and the first one taking place in Indonesia – triggering the attention of the satellite industry for business activities to the Southeast-Asian region.
Over the last decade,
the APSCC annual event has earned a reputation in the satellite industry as the prime event not only in Asia but also worldwide regarding both its contents and its volume.
A series of panel sessions and presentations along with an accompanying exhibition will ensure that the conference has broad appeal across the satellite and space arena.
Themed "All Eyes on Satellites", the APSCC 2011 Satellite Conference and Exhibition will
not only focuses on opportunities in the mainstream markets — commercial, broadcasting, and policy — but will also dig deeper than ever before into providing fresh data, keen market intelligence and the strategies to achieve new levels of business development.
Delegates of the event consists of satellite operators, broadcasters, manufacturers, service providers, financing professionals, government regulators, users and academics including key players in the satellite and space-related fields including the most influential executives of the industry.
Hosted by the Asia-Pacific Satellite Communications Council (APSCC), APSCC 2011 will represent an opportunity to reach the targeted selection of satellite professionals for business promotion and information exchange
. The event will also offer opportunities to network with
senior executives
as well as administrators from the Indonesian satellite industry
at
.