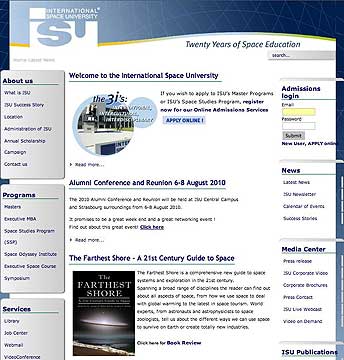 The International Space University (ISU) and the American Institute of Aeronautics and Astronautics (AIAA) have taken steps to work together, recognizing a mutual strategic interest in furthering educational opportunities with an international dimension, enhancing the health of the future aerospace workforce.
"ISU is proud to be recognized by AIAA as a partner in preparing talented young men and women for significant roles and leadership positions in the aerospace workforce," said
Dr. Michael Simpson
, the
president of ISU
.
"By this action,
AIAA recognizes the key role of ISU in advancing the growing importance of international cooperation in aerospace careers. As we prepare our future workforce for leadership roles in the global space community
, the international aspects are increasingly significant," said
David Thompson
,
AIAA's 2009-2010 President
. "ISU offers a tremendous multi-disciplinary, multi-cultural experience for students and professionals alike to facilitate global partnerships," he added.
Steps taken to date include extending
one-year of free membership in AIAA for new ISU graduates and opening the eligibility of several AIAA scholarships to ISU students.
AIAA also served as a sponsor of ISU's alumni conference in August 2009 at the NASA Ames Research Center, an annual event that attracts graduates of ISU from many countries.
"I anticipate this will lead to additional ideas and potential joint initiatives for ISU and AIAA," said
Steven Brody
,
ISU's Vice President for North American Operations and a lecturer for ISU
. In addition, he indicated that "both ISU's Associate Dean, Dr. Angie Bukley, and I are AIAA Associate Fellows, so seeing this growing relationship between the two organizations is personally very gratifying for us to witness."
AIAA is the world's largest technical society dedicated to the global aerospace profession. With more than 35,000 individual members worldwide, and 90 corporate members, AIAA brings together industry, academia, and government to advance engineering and science in aviation, space, and defense
. 
The
International Space University, the 'gold standard in interdisciplinary space education'
, is a graduate school that conducts programs at its central campus in Strasbourg, France, and at locations around the world. ISU offers a unique core curriculum covering all disciplines related to space programs and enterprises – space and earth sciences, engineering, satellite applications, policy and law, business and management, and space and society. ISU also provides short courses for professional development and life-long learning.
Since its founding on the
campus of MIT in 1987, with noted author and visionary
Sir Arthur C. Clarke
as its first Chancellor, ISU has graduated more than 2900 students from 100 countries, many now in senior positions with commercial and government space-related organizations throughout the globe.