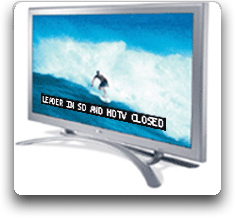 EEG, a provider of closed caption decoding, has announced the availability of a number of updates to its DE280 HD Caption Decoder.
As EEG's professional
EIA-708 closed caption decoder
, the DE280 continues to provide broadcasters and post production facilities with the most advanced HD open caption display for monitoring data quality and standards compliance. With a host of new metadata display features, the DE280 now also provides a broad test and monitoring solution that can replace many of the functions of general purpose waveform monitors and other expensive monitoring equipment.
The DE280 update features an
AFD (Auto Format Description) decoder module
, which enables presence monitoring of AFD data, and provides an on-screen display of all upstream codes. In addition to displaying raw AFD codes, on-screen cues provide code meanings with aspect ratio and bar data information.
In addition, the DE280 now offers a
solution for Dolby Audio Metadata monitoring, displaying key parameters like channel configuration and dialog normalization.
AFD, Dolby Metadata, and all other decoding modules can be used simultaneously with closed caption decoding from HD VANC 708 or 608 compatibility sources.
With the latest update to the EEG DE280, the unit can now also decode and display XDS data, including V-Chip ratings and CGMS-A copy protection, for both HD and SD video. In addition, it will show which closed caption services are present, displaying any of the four 608 services (CC1-4) for HD and SD, as well as the six 708 services (S1-6) that are exclusive to HD.
The EEG DE280 can also
capture raw VANC data from an HD video input and save it to a USB drive for browsing and analysis
. With this function, users can diagnose malformed, illegal, or missing data in any standards-defined or custom VANC service. This function provides the same authoritative byte-level analysis found in the "data dump" modes on popular waveform monitors.
Further enhancements to the EEG DE280 include:
Clearer text display. Easy-to-read display even when displaying multiple services simultaneously
True Standards Compliance. Superior performance and attention to detail allows the DE280 to correctly display captions in the complex 708 format which other decoders cannot.
Automateable Display Interface. Telnet-style TCP automation interface to control display properties for each VANC/SD service available on the decoder.
Automatic SD/HD Caption Detection. The DE280 automatically switches between HD VANC (708) and SD Line 21 (608) formats when the input video changes. As a result, even if there is a sudden switch between HD and SD input (by playing an HD program with SD commercials, for instance), the DE280 will continuously display captions.
Unlike earlier decoders which show 708 captioning in a traditional, 608-style black and white box, the
DE280 is the first professional decoder with the ability to accurately display the advanced style and positioning features defined in the 708 standard.
For monitoring applications, this means full confidence that the monitor matches the output of consumer decoders. Use of the rich 708 feature set also makes the DE280 ideal for
titling (open captioning) applications in post-production or live environments
.
The EEG DE280 offers a number of highly useful features, including:
configurable from the front panel to display caption data in all HD Services 1 through 6, and all caption channels present in the EIA-608 compatibility bytes
user-selectable fonts, colors, text size, and opacity for easy caption reading, as well as transparent, accurate display of upstream encoded fonts and settings
powerful processor platform to enable a wide variety of custom decoder-based applications
additional applications and firmware updates are field-programmable using a front panel USB port, or a LAN connection.
"The DE280 stands alone in the market as a professional-quality closed caption decoder offering full support for the CEA-708 standard," says
Philip McLaughlin
,
President of EEG
. "The recently upgraded VANC feature set expands the value of a decoder that was already one of the industry's most unique products."