Becoming the second satellite company in Thailand to possess a satellite business license is Mobile LTE Co., Ltd., run by Mr. Varayuth Yenbamroong, the CEO and Co-Founder.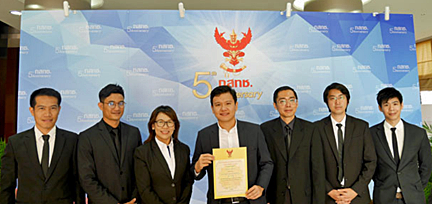 Yenbamroong, the management team and staff met with the head of Thailand's National Broadcasting and Telecommunication Commission (NBTC). The result of the meeting was the company receiving the Type Three Satellite Business License Kor/60/001 to conduct the business and provide the communications satellite services. The license period of 15 years starts from the January 23, 2017 to January 22, 2032.
Mr. Varayuth said that Mobile LTE Co.,Ltd. focusses on services using new technologies that are different from those existing in the market today. The company wants to launch a satellite onto country's unused and reservation orbital slots as soon as possible, as some slots will expire very soon. This will help to use the existing resources for the benefit of the country to promote and support the expansion of the communication satellite business to ASEAN and other countries.
According to the plan, the company will provide the services as soon as possible —however, the company must first obtain an additional permission from the Ministry of Digital Economy and Society as they follow the rules and regulations in force before providing such services.