Iridium Communications Inc. (NASDAQ: IRDM) now has a new, long-term agreement that brings the global coverage and reliability of the Iridium® network to Hitachi Construction Machinery Co., Ltd.'s (TSE: 6305; "Hitachi Construction Machinery") world class Global e-Service construction machinery management system.
By integrating Iridium connectivity, Hitachi Construction Machinery's Global e-Service will now be able to expand to previously inaccessible regions and markets. Together, Iridium and Hitachi Construction Machinery are making effective, reliable and truly global, construction machinery management possible for Hitachi Construction Machinery's vast telematics customer base.

Hitachi Construction Machinery's Global e-Service construction machinery management system provides customers with robust maintenance information to help companies control CO2 emissions, minimize idling times and monitor fuel consumption. Through this new agreement, Global e-Service customers will be able to easily access and transfer critical data, that convey key operational information, including but not limited to, daily operation hours, temperatures and pressures. Quake Global, a key Iridium hardware manufacturer, provides its Iridium satellite network-based product for Hitachi Construction Machinery to integrate Global e-Service with the network.
According to the company, Iridium's network is uniquely qualified for mobile telematics and serving the Internet of Things (IoT) beyond the reach of terrestrial networks, due to the inherent advantages it boasts. Iridium operates the only 100-percent global network comprised of interconnected LEO satellites. Due to the satellites proximity to Earth in LEO, Iridium's network delivers low-latency and reliable connectivity supporting critical business functions, like remote asset tracking, vehicle management and preventative maintenance. With constantly moving satellites that can communicate with each other, end users have access to enhanced reliability and connectivity, even in the most remote locations.
To date, Iridium IoT services are used by eight of the top 20 heavy equipment, original equipment manufacturers, and includes five of the top 10. As the satellite IoT market continues to grow through the increased adoption of satellite-enabled telematics solutions, the need for global and reliable solutions will increase, further establishing Iridium's position as a leader in this space.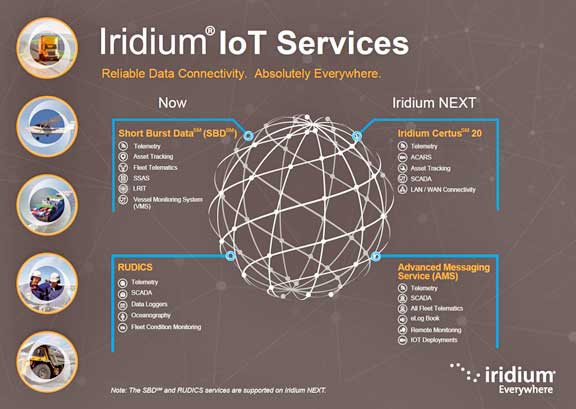 All Iridium IoT services are compatible with Iridium's next-generation constellation, Iridium NEXT. The new constellation, which is currently being launched by SpaceX, will also enable Iridium CertusSM, the company's state-of-the-art communications platform supporting a portfolio of critical communications solutions. Specifically, for Iridium IoT solutions, Iridium Certus will support faster speeds and higher throughputs, delivering an enhanced version of the low latency satellite connectivity it provides today.
Toru Kurenuma, GM, design department control system center at Hitachi Construction Machinery, explained that Iridium's network will afford the company a new level of global connectivity that will help the firm to grow the telematics business and expand the worldwide footprint.

Tim Last, VP and GM of IoT at Iridium, said that partnering with Hitachi Construction Machinery is a major milestone for Iridium's IoT business as the companies work together to make reliable, satellite-based telematics solutions available to Hitachi Construction Machinery's Global e-Service customers. Integrating with the Iridium network will allow Hitachi Construction Machinery to deliver improved performance and better coverage to its customers, helping expand their business into new regions previously not possible, due to lack of satellite coverage. When deploying business critical communications, such as those with Global e-Service, reliability is key, and Iridium is the only network that can offer that level of dependability and connectivity.