Thuraya Telecommunications Company has signed a partnership agreement with satellite communications company Gulfsat at the ongoing OPV (Offshore Patrol Vessels) event in Kuwait.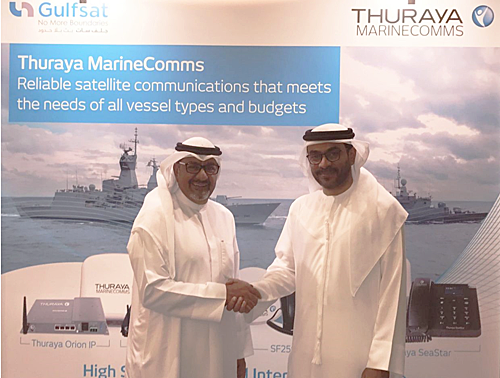 This strategic alliance will enable Gulfsat to launch data services in Kuwait. The partnership allows the companies to combine interests and increase both their distribution channels among government, maritime, media and enterprise sectors in the surrounding region. From the month of November, the product range accessible to Gulfsat customers will include the full range of Thuraya's land and maritime broadband terminals such as the IP+, IP Voyager, Orion IP and Atlas IP.
Established in 1995, Gulfsat, a subsidiary of United Networks, a member of Kuwait Projects Company (KIPCO Group), has risen to be a prominent provider of satellite communications, satellite broadcasting and managed telecommunications solutions. The new agreement gives Thuraya — for the first time — a data service presence in Kuwait, and enhanced broadcasting capabilities, backed by Gulfsat's media broadcasting influence and forte. Meanwhile, Gulfsat can look forward to furthering their service capabilities over land and sea in the Middle East and North Africa region via Thuraya's range of data products.
Danny COTE, Chief Commercial Officer at Thuraya, stated that the company worked diligently with Gulfsat, through whom the firm will be able to gain a foothold in Kuwait and to extend services into some of the country's key sectors, including the prominent maritime market. Together, these joint offerings will also facilitate the remote operational capabilities of the MENA utilities and oil and gas sectors. Thuraya can drive communication costs down by an average of 40%, while ensuring that anybody and everybody is reached. We offer unprecedented value; unlimited data plans; swift, easy installation; fast speeds and access to a reliable network.
Mohammed Al-Haj, Chairman and CEO at Gulfsat, added that this alliance empowers the firm to meet the increasing demand for mobile data in Kuwait — the company can now offer unified solutions across terrestrial and satellite networks to customers and keep them connected, no matter where they are located.