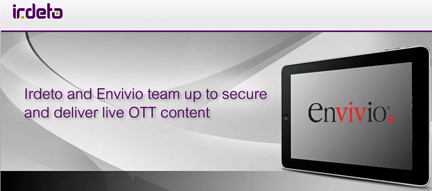 [SatNews] Irdeto has a new partnership with Envivio that will better enable operators to streamline live channels over-the-top (OTT) across multi-screen platforms and devices.
Irdeto and Envivio will include Microsoft PlayReady LiveTV content protection in their live linear OTT solution, available on multiple platforms including Windows, iOS and Android devices, gaming consoles and connected TVs. The joint solution will be first deployed in the market with a Tier-1 European cable operator in early 2014. Due to its high value, live content typically requires key rotation for improved security robustness and to meet contractual obligations of the content owners. Such requirements create technical challenges that can impact both the solution cost and the end-user experience. The Irdeto and Envivio solution combines automatic key rotation and PlayReady LiveTV which minimizes the number of license requests per subscriber, while helping operators significantly reduce the backend infrastructure footprint and control their costs. In addition, the support for fast-channel switching enables a smooth, uninterrupted end-user experience in live TV scenarios.

Envivio software-based compression and video processing solutions seamlessly support video delivery in any format, to any device, including 4K, HD, SD and mobile resolutions. Using codecs optimized in-house and running on high performance Intel-based platforms or blade servers, Envivio encoders deliver best-in-class video quality and increase flexibility for service providers while reducing CAPEX and OPEX.
More info at Irdeto's infosite: http://irdeto.com
Envivio's infosite is at: http://envivio.com/