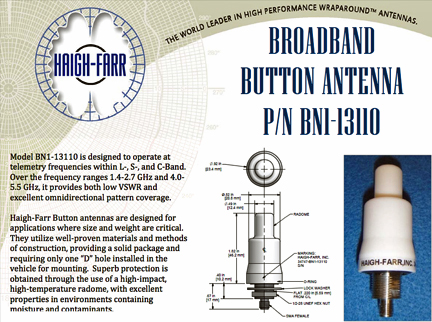 [SatNews] Haigh-Farr's newest addition to its line of Broadband Button Antennas (Model BN1-13110) is designed to operate at telemetry frequencies within the L-, S-, and C-band.
The antenna provides both low voltage standing wave ratio (VSWR) and excellent omnidirectional pattern coverage when operating within the 1.4-2.7GHz and 4.0-5.5GHz frequency ranges. Haigh-Farr button antennas are designed for applications where size and weight are critical, as they use well-proven materials and methods of construction to provide a solid package that requires only one "D" hole installed in the vehicle for mounting.
Superb protection is obtained through the use of a high-impact, high-temperature radome with excellent properties in environments containing moisture and contaminants.
For additional details, please visit http://www.haigh-farr.com/button.shtml