[SatNews] KNS Inc. continues its legacy of innovation in marine VSATs with the launch of its new...
...SuperTrack X10Mk3. The X10Mk3 is designed with a rotating polarizer and operates at Rx: 7.25-7.75 GHz; Tx: 7.9-8.4 GHz. The new MK3 Platform includes a brake system, shock absorbers, high torque motors, and is completely anodized to eliminate corrosion. An external air conditioner option is available for high power Block Up Converters, which enables the antenna to operate in any environment efficiently. In addition, the MK3 platform meets or exceeds military vibration, shock, and EMI/RFI standards.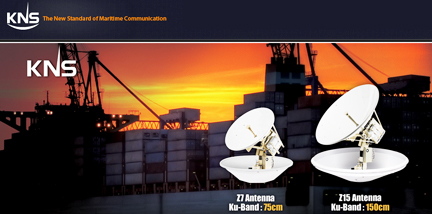 KNS's SuperTrack Series VSATs are in use and constantly challenged in the roughest seas all over the world. Based on exclusive technologies, the highly advanced stabilized antennas are the most reliable and high performing maritime antennas in the market. All KNS antennas are developed specifically to stabilize broadband connections during volatile at-sea weather conditions. The antennas are built on the proven 3-Axis platform that allows them to constantly track and lock in on satellite sources. With the 3-Axis platform KNS antennas are able to gyrate along the X, Y, and Z axes and move more than 90 degrees per second.