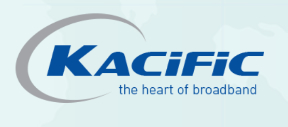 Kacific1
, Kacific Broadband Satellites Group's (Kacific) first communications satellite, has entered commercial service and is ready to support customers across Asia Pacific.
Designed and manufactured by Boeing, Kacific1 is a high-throughput, Ka-band satellite that successfully launched on December 16, 2019, from Cape Canaveral, Florida. The payload and bus platform have been thoroughly tested and all 56 spot beams are now operating with full capability from the 150° E orbital position.
Kacific engineers are working with local engineers in the installation and maintenance of the satellite ground technology. The rapid rollout will continue in coming months connecting both new end users and those being transferred from the provisional Ku-band network to Kacific1's Ka-band services.
Kacific's affordable, high-speed broadband services are available in these countries through local telecommunications and internet service providers:
Bob Perpall, CTO, Kacific, said from the early design and through the construction phases, the company knew that Kacific-1 would provide the Asia-Pacific region with cost-effective technology to transform lives and businesses with the best broadband available to remote areas. Now with the on-orbit tests completed, Kacific can realize this huge potential. In the two months since launch, the company has rolled out more than a hundred trial sites across Asia Pacific and are extremely pleased with the technology's performance. When Kacific put up the initial carriers and saw the performance on that first terminal, the firm knew then that we had something wonderful to offer people.