[SatNews] Orbital ATK, Inc. (NYSE: OA) will highlight a wide range of the company's satellite and space component products at the upcoming conference being held from March 16-19 at the Walter E. Washington Convention Center in Washington, D.C—the Orbital ATK display is located at Booth 8017 in the exhibit hall.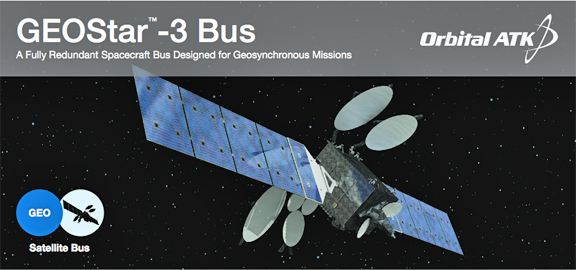 Orbital ATK is a leading provider of small- to medium-class satellite systems and space components for commercial, government and international customers. Specific products on display at Satellite 2015 include Orbital ATK's GEOStar-2 and GEOStar-3 geostationary Earth-orbit communications satellite platforms as well as the company's medium-, small- and microsatellite-class systems primarily used in LEO. These satellite platforms support a wide variety of customer missions in the commercial and international communications markets.
The Orbital ATK exhibit features innovative satellite servicing technology including our Mission Extension Vehicle built for ViviSat which provides in-orbit satellite life extension service to virtually all geostationary satellites. The Mission Extension Vehicle also offers a flexible hosted payload capability. Also on display are products that showcase Orbital ATK as a leading supplier of spacecraft components on domestic and international platforms. Those products include bus structures, antenna reflectors, solar array systems, space thermal hardware, deployables and propulsion tanks.
In addition to the exhibit presentation, Orbital ATK President and Chief Executive Officer David W. Thompson will participate in a panel discussion on Monday, March 16, at the conference. The panel titled, "Transformative Change Across the Value Chain" will be held from 9:00 to 10:00 a.m. in Room 207A at the Convention Center.
Visitors to the Orbital ATK exhibit can learn more about the company's innovative, affordable and flight proven satellite products through animated videos, fact sheets and product model displays. Orbital ATK subject matter experts will be available to answer questions and provide additional information.