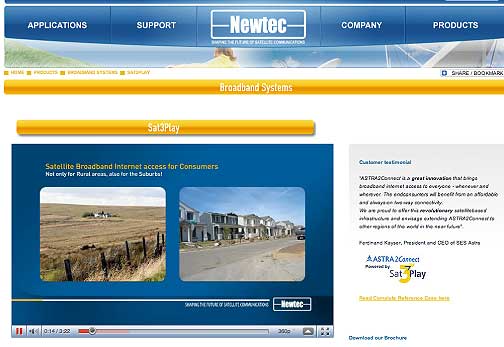 [SatNews] SES ASTRA and Italian integrator Digitaria are creating a nationwide energy monitoring system using Newtec's Sat3Play® technology for connecting remote sites.
This
SCADA (Supervisory Control and Data Acquisition) system will connect about 5,000 renewable energy plants over satellite links to provide a sophisticated monitoring and forecasting capability for Italy's gas and electricity authority
.
Interactive satellite broadband links, provided by SES ASTRA via the
ASTRA2Connect service with the Sat3Play hubs and low-cost, easy-to-install terminals at the remote sites, allow the system to collect data from wind, hydro-electric and solar plants through telemetry and video surveillance.
You can learn more about Sat3Play
here.
The
system monitors data on power generation from each plant
, as well as environmental conditions including wind speed, temperature, humidity, pressure and solar radiation. The collected data is then integrated with the forecasting system to provide an accurate basis for combining the energy generated with the national grid.
Under overall control of the government agency GSE (Gestore dei Servizi Energetici), the project is managed by a consortium of SES ASTRA; Digitaria, the ASTRA2Connect service distributor in Italy; and Calzavara, a system integrator specializing in telecommunications, with extensive experience in serving the renewable and alternative energy sectors.
"This project is unique for the Italian energy industry," says
Federico Masier
,
CEO of Digitaria.
"GSE's decision to use the ASTRA2Connect service gives it access to a flexible, expandable system for its data collection processes with full national coverage."
"The European energy market is seeking a substantially increased share of renewable energy sources, and
we are very proud to offer ASTRA2Connect as a reliable and cost-efficient solution
, powered by Newtec Sat3Play, that's ready for the enterprise market," says
Patrick Biewer
,
Managing Director of ASTRA Broadband Services, SES ASTRA's broadband subsidiary
.
The complete solution comprises the supply, installation, management and maintenance of all the elements necessary for the implementation of a satellite-based metering system, and it operates entirely independent of terrestrial communications services. The system's highly flexible architecture allows the easy and quick addition of extra units and provides extremely high reliability, thanks to built-in redundancy of the transmission infrastructure.
"Our Sat3Play has an enormous range of potential applications proven for both the consumer and enterprise market," says Serge Van Herck, CEO of Newtec. "Here it is helping to bring about an important development in power generation, and it's doing so in a way that would not have been viable with conventional terrestrial communication. Additionally, this SCADA application allows optimal transmission efficiency through statistical data multiplexing. This heavily reduces satellite bandwidth consumption and therefore also recurring operational costs."