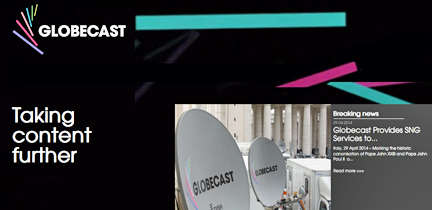 [SatNews] At IBC 2014, Globecast will be launching Media Factory, offering broadcasters and content providers a converged workflow to prepare and playout content, pulling together the company's highly evolved global expertise across the content and channel preparation sectors.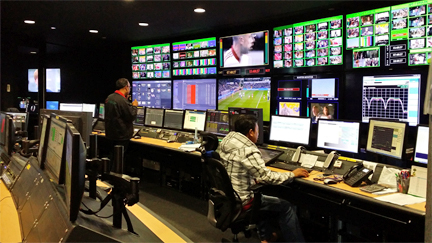 The result of significant investment in its media management platform, Media Factory is part of Globecast's ongoing wider media management strategy and allows the company to more efficiently support broadcasters, enabling better management and localization of content for multiple delivery platforms and territories. Media Factory goes beyond traditional media management, logistics and playout services. It replaces multiple, siloed operations, rationalizing them to create a single, efficient process that handles everything from VoD preparation and content formatting through to creative services, quality control and compliance. Media Factory allows Globecast to pass on economies of scale to customers who also benefit from the greater flexibility and the ability to scale up and down as required.
Peter Elvidge, Head of Media Management, Globecast, said, "As the broadcast business becomes more fragmented, with more ways to consume content through more platforms and on more devices its critical to have the most efficient content preparation and publishing, not just to save cost, but also to minimise time to market and stay ahead of the competition. Our customers need to continue to serve audiences via traditional linear playout, but also reach audiences via VoD and catch-up services on conventional TV platforms and online. As a result the role of a service provider like ourselves has changed. Our business is now more about orchestrating content preparation rather than just playout and delivery. Media Factory is about bringing tried and tested approaches from the world of industry and applying them to media management. This means our customers can still benefit from a specialist, premium service tailored to their needs, but one that is industrially efficient."
Globecast's Media Factory will leverage the company's proven expertise in handling both linear broadcast and on-demand services.

Additionally, Globecast has entered into a long-term partnership with BBC Worldwide (BBCW) to provide content preparation, playout and distribution services for as many as 30 channels globally.
Globecast will be the primary technical partner for these services, handling channels that were previously supported by multiple service providers across multiple regions. Moving the whole operation to a single service provider means a more cost-effective, flexible and efficient playout and distribution workflow than would have been possible with the current multitude of separate providers. BBCW will benefit from increased flexibility through direct access to Globecast's global distribution networks and increased business agility through the ability to re-assign channels to different regions as and when needed. The tightly integrated solution allows faster content turnaround, significantly reducing the window between UK and international broadcast for key programming, maximising the monetisation value. Globecast will also provide flexible capacity for rapid channel deployments where opportunities are identified.
BBCW is taking advantage of Globecast's newly-announced Media Factory, a unified, converged workflow to prepare and playout content, which provides a dedicated web portal enabling more efficient and secure orchestration of content preparation by the broadcaster, Globecast and selected partners. The web portal will allow BBCW to track the progress of content through the workflow, providing a live service health dashboard for playout and global channel distribution.
Globecast is also offering Edge Playout as part of its package, enabling additional revenue from existing services by delivering them to new territories and regionalising them. Globecast's global fibre network enables the integrated site diverse Disaster Recovery (DR) solution to be seamlessly fed to all of the distribution points without the need for dedicated network infrastructure, which is both complex and costly.
Playout and distribution for BBCW will be handled from Globecast's London facility, by a team of dedicated channel managers
Commenting on the agreement, Andy Steele, Head of Operations, Global Markets, BBC Worldwide, said, "BBC Worldwide are looking forward to expanding our partnership with Globecast, who have played a vital role in supporting our playout and distribution requirements for our Global Markets' channels. Globecast's ability to propose solutions with build-in flexibility, whilst adapting to our strategy and business plans was a key factor in to our decision to expand our relationship with them."
Globecast CEO Olivier Barberot said, "This major partnership with BBC Worldwide is testament to both the power of our distribution services and our highly evolved media management capabilities. We are very proud that they have chosen to extend the relationship between our two companies in such a comprehensive way."
For additional information, please visit http://globecast.com/