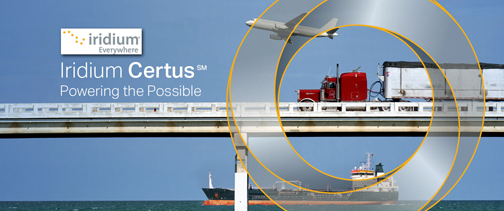 A new suite of aviation products and services has rolled out from Iridium Communications (NASDAQ:IRDM) that feature Iridium Certus technology.
This nexgen suite features a broad portfolio of products from four leading avionics manufacturers, which will deliver global broadband connectivity for cockpit and passenger communications. Scheduled to launch commercial service in 2017, Iridium Certus is Iridium's nexgen, multi-service communications platform enabled by the firm's new Iridium NEXT satellite constellation. Iridium Certus will deliver higher throughputs, enterprise-grade reliability and global overage at an unprecedented value. After completion of the Iridium NEXT constellation, Iridium Certus will deliver speeds eventually reaching 1.4 Mbps via some of the smallest and most cost-effective antennas in the industry.
Iridium® is installed on more than 30,000 business aviation and rotorcraft today. Iridium Certus will offer a turnkey upgrade path delivering greater performance, utility and value for cockpit and cabin communications through a best-in-class platform designed to support connectivity needs for the next decade.
The Iridium Certus service portfolio will feature a range of data speeds using either high gain antennas (HGA) at 352 Kbps, 704 Kbps or 1.4 Mbps, or low gain antennas (LGA) for speeds of 88 Kbps or 176 Kbps. These solutions may serve as stand-alone connectivity options or be integrated with Very Small Aperture Terminal (VSAT) solutions offering redundancy and expanded coverage. Further, the HGA speeds will serve as an ideal business aviation cabin connectivity solution for most users.
According to Brian Pemberton, the Vice President of strategy and aviation line of business at Iridium, the business aviation community is challenged to find cost-effective connectivity. Iridium Certus will provide a suite of scalable solutions that meets those diverse needs—whether for business jets, rotorcraft, fractional and charter operators or general aviation, aircraft operators can choose what makes the most sense for them in the most competitive manner possible.