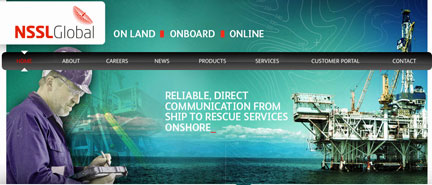 [SatNews] NSSLGlobal, an independent service provider of satellite communications, is merging with the ESL group of companies, a satellite solution provider and system integrator specializing in custom solutions for the government, fishing, commercial shipping and offshore industries.
This merger allows both companies to pool their engineering expertise and experience to provide respective customers with increased global support and a broader product and service offering focused on developing solutions to meet the ever changing needs of customers. NSSLGlobal and ESL both target similar market sectors within specific geographies that are complementary. The merger gives each company a broader global reach: NSSLGlobal benefiting from increased presence across Europe through ESL's offices in Germany, Denmark and Poland; and ESL gaining a broader global footprint through NSSLGlobal's offices in the UK, New Orleans and Singapore. The combined group will have an expected annual turnover in the region of 90MEUR, with 150 employees and sales and service offices globally. As part of the combined transaction the former owners of ESL will become part owners of the combined NSSLGlobal group.
As part of the merger, NSSLGlobal welcomes Henrik Christensen (current ESL CEO) and Nikolaj Hvegholm (current ESL COO) to its executive management team. Christensen and Hvegholm will continue to lead the original Group of ESL companies, with Chistensen also taking on global responsibility for sales and strategy in the Maritime sector across the NSSL Group. Hvegholm will become the NSSL Group Commercial & Marketing Director. Current NSSLGlobal Managing Director Sally-Anne Ray will lead the merged companies, which will be re-named NSSLGlobal group by the end of year.
Sally-Anne Ray, the Managing Director of NSSLGlobal, said, "The economies of scale are obvious but this merger is a strategic move that gives the new NSSLGlobal group the scale, reach and operational strength it needs to support continued growth in both the European government and commercial maritime markets. We can now offer our customers substantial international support and enhanced engineering resource capability. As market consolidation continues it is important that we can offer our customers global support as well as value for money. Both companies have a wealth of knowledge and experience, which will allow us to take the very best solutions from both companies to our respective customers."
Henrik Christensen & Nikolaj Hvegholm added, "NSSLGlobal and ESL have already enjoyed long-lasting cooperation on VSAT services and on product and solution development, so the merger is a natural progression based on the strength of our relationship. Having originally been sister companies (prior to 2000) there is already a common respect and co-operation between employees on both sides who have worked together for many years. This merger will bring us together again allowing us to support our global customers better than ever before and deliver even greater technical innovation."
To learn more about NSSLGlobal, please visit http://www.nsslglobal.com/