Orolia has taken the next integration steps with its Spectracom line of Resilient PNT products — clients will now be able to take full advantage of Talen-X's BroadShield Interference and Spoofing Detection technology — this announcement follows up on news of the company's recent strategic alliance.
Orolia's Spectracom and Talen-X have aligned hardware and software development efforts to jointly develop, market and sell the most advanced PNT solution. The goal is to combine the strengths of Spectracom Resilient PNT products with Talen-X's interference and spoofing detection suite (BroadShield). In addition, under this alliance, Orolia will manufacture SecureSync precise time and frequency references with BroadShield integrated for Talen-X, in its Rochester, New York facility.

Many mission critical defense, government and commercial operations require highly accurate and reliable PNT data but often rely on signals from GPS/GNSS satellites that are increasingly susceptible to interference or jamming. The Talen-X BroadShield technology is a fully integrated software option available within Spectracom SecureSync. Working with standard SecureSync GPS/GNSS receivers, BroadShield utilizes its unique software algorithms to detect anomalies in the GPS signal, including unintentional interference and malicious attacks. Armed with feedback from BroadShield detected anomalies, the integrated solution provides notification, alarming, and automatic disabling of GPS/GNSS synchronization.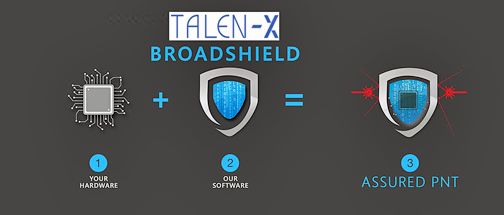 At the same time, BroadShield interference and spoofing detection technology enhances the Resilient PNT capabilities of the best-selling Spectracom SecureSync line of time and frequency reference systems. BroadShield achieves this by ensuring mission critical applications receive reliable, accurate and precise time and frequency information in a variety of challenging environments.
In addition, Spectracom SecureSync will take full advantage of Talen-X's BroadShield algorithms, which are known for meeting the requirements for Critical Infrastructure published by the US Department of Homeland Security (DHS). Beyond complying with DHS best practices, Talen-X has further enhanced the BroadShield algorithms to go beyond simply detecting various threats. Thanks to this enhancement, Spectracom SecureSync operators now have detailed threat characteristics, real-time situational awareness and recorded data for post event forensic analysis.
Greg Gerten, Talen-X's CEO, related that this synchronized solution is designed to meet both government and commercial requirements by improving the protection of GPS/GNSS based critical infrastructure systems against emerging GPS/GNSS threats. Talen-X's interference and spoofing detection algorithms have been successfully supporting the US Department of Defense (DoD) in Navigation Warfare (NAVWAR) testing for more than six years and are ready to be leveraged to protect civil communities, as well.

John Fischer, Orolia's V.P. of Advanced R&D, added that Orolia is focused on providing Resilient PNT solutions, combining and layering technology in innovative ways that help our customers meet their mission goals. This new capability from Talen-X augments our systems with a unique ability to detect and mitigate emerging GPS and GNSS threats more effectively.