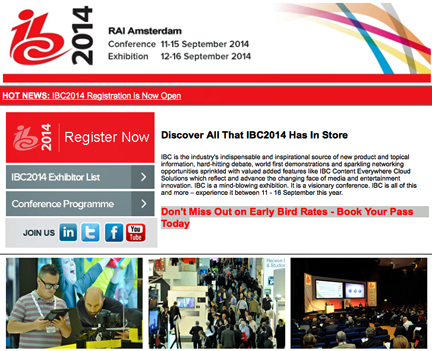 [SatNews] IBC is the industry's indispensable and inspirational source of new product and topical information, hard-hitting debate...
world first demonstrations and sparkling networking opportunities sprinkled with valued added features such as IBC Content Everywhere Cloud Solutions which reflect and advance the changing face of media and entertainment innovation.
IBC is a visionary conference that is conducted between September 11th and 16th in Amsterdam. Ten reasons why IBC2014 is a trade exhibition that should be on your "to attend" list.
1) Enter The Debate
Packed with information, insight and fascinating speakers, just how do you decide where to spend your time at the IBC2014 Conference? Start by reviewing the themes that reflect the innovation story of our industry and shape the whole prograe, then enter the debate from the angle that suits you from scene-setting keynotes to free state of the nation industry reports.
2) Trending Technology
From virtualized playout and tools for intelligent automation to the latest robotized cranes and 360-degree cameras for virtual reality to the latest in HEVC encoding, explore fourteen Halls packed with everything trending in technology. Plot your journey through the IBC Exhibition by product, region or exhibitor with our online listing.
3) Golden Networking Opportunities
Over 1,500 of the hottest companies and experts in everything from HEVC to shooting 4K make an appearance at IBC. You will find entrepreneurs, investors, marketeers with an angle and technologists with the next big thing. IBC prides itself on creating a professional but friendly environment that is full of ideas—with Amsterdam as the perfect backdrop. You might even bump into visionaries and yet-to-be-announced special guests!
4) Introducing IBC Content Everywhere Cloud Solutions
Gain a richer understanding of pioneering second screen applications, streaming video compression and the security of cloud platforms with incisive presentations and expert-led demonstrations, free to visitors at IBC Cloud Solutions, an all new star attraction within IBC Content Everywhere Europe.
5) Experience the IBC Big Screen
The IBC Big Screen Experience is home to a free to attend program of conference sessions based on the theme of "Disruptive Cinema." The IBC Big Screen is outfitted with Christie 6P 2D and 3D laser projection and Dolby Atmos immersive audio. There is simply no better place to witness the latest state-of-the-art cinema technology and complimentary blockbuster screenings. The future of cinema is here.
6) Networking At Its Most Social
Beside the presentations, demonstrations and seminars IBC is host to an astonishing variety of places to rub shoulders with those you admire, those you want to do business with, and those who want to meet you. Networking is at its most social at the Beach, in the IBC Pub, in and around the exhibition halls or at the Feature Areas. A chance meeting with someone new could spark change for your business...
7) Meet the Future Face To Face
Renowned for promoting technological innovation stripped of all marketing and commercial pressure, the IBC Posters stand or fall on the strength of their argument and expertise alone. Only the sharpest are selected for publication at IBC2014 and you can catch them - and their authors - at The Future Zone alongside a full range of exhibits from the world's leading R&D laboratories.
8) Celebrating Innovation
IBC is where the electronic media and entertainment industry comes together to share knowledge about the industry's developments and technologies. IBC celebrates this through the IBC Awards, which will be presented on Sunday 14 September in a ceremony that is open for all to attend. From recognizing inspirational individuals with the International Honor for Excellence, through to recognizing ground-breaking collaborations with the IBC Innovation Awards, ensure that you join us to celebrate and enjoy a few surprises along the way. Read more...
9) Stars In Your Eyes
The future starts here. IBC Rising Stars are talented newcomers inducted into the industry in unforgettable fashion. A specially programmed series of events, exhibition tours, conference insights, parties and invaluable networking gives you - the potential employer - a chance to meet an inspirational young professional. Read more...
10) David Abraham
Today's broadcast industry faces new opportunities and challenges in the era of online distribution and on-demand consumption. On Thursday 11 September IBC will be taking the pulse of broadcasting and asking how it fits in to an increasingly on-demand and IP-based world. Channel 4's CEO David Abraham will be joined by a panel of leaders to provide their unique perspective on this shift and the strategies they are implementing for their visions in the future of television.
Register for IBC2014 at this infopage.