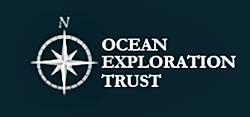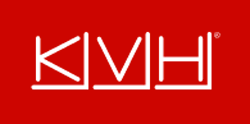 KVH Industries, Inc. (Nasdaq:KVHI) has partnered with Ocean Exploration Trust (OET), the international scientific research organization founded by RMS Titanic discoverer and renowned oceanographer Dr. Bob Ballard, to provide services and products to enhance the onboard experience for OET's research team. In exchange, the team will provide firsthand feedback on various products that KVH develops.
For the first phase of KVH's support, coinciding with OET's 2017 expedition in the Eastern Pacific Ocean, a KVH TracPhone® V7-IP satellite communications antenna system has been installed on the 64-meter OET exploration vessel (E/V) Nautilus, and is providing high-speed broadband connectivity from KVH's mini-VSAT Broadbandsm network for crew use, as well as multicasting daily news content to the 48 researchers and crew via KVH's IP-MobileCastTM content delivery service.
Having personal access to broadband data and daily news updates while on a research expedition enhances the onboard experience for the Nautilus team, which typically restricts use of its broadband data to conveying research information and video to land.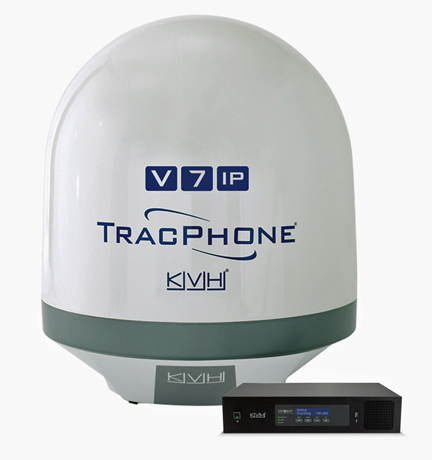 The TracPhone V7-IP system installed on the Nautilus is a rugged, compact, 60 cm diameter Ku-band antenna system designed to provide data at speeds up to 3 Mbps shore-to-ship, and 512 Kbps ship-to-shore. The content that KVH is multicasting to OET's Nautilus team via the IP-MobileCast service includes NEWSlink™ Print — daily updates of more than 65 national editions in more than 20 languages covering news, sports, business, and entertainment topics. Additional services and products that KVH is planning to provide to OET include access to KVH's Videotel™ maritime training programs and access to new Internet of Things (IoT) maritime applications that KVH is developing.
The 2017 Nautilus Expedition represents the third year of exploration in the Eastern Pacific Ocean, and is one of the most extensive seasons to date. The Nautilus is documenting and surveying unexplored regions from British Columbia, Canada, along the West Coast of the United States, to Baja California, Mexico.
Dr. Ballard, a professor of oceanography at URI, known for his ocean exploration efforts and longtime commitment to providing real-time data and video from the vessel to land, said that it's been a dream of his to have super high-speed data capabilities directly from our vessel to reach the next-generation of scientists and engineers and keep the research team as connected as possible.
Brent Bruun, KVH's COO, added, that it is an honor for KVH to support the fascinating work of the Ocean Exploration Trust. Dr. Ballard and his team onboard the Nautilus represent the leading edge of scientific research as well as an incredible inspiration to students and adults alike who long to see and understand the ocean's mysteries.