[SatNews] Designed to meet a demand among RF and microwave test engineers, this new convenient-to-use and versatile amplifier from AtlanTecRF covers the full 1 to 18 GHz frequency range and the unit's rugged housing is suited to the busy laboratory environment.
Built within a cast aluminum housing, 129 x 84 x 67 mm, the 1-18GHz amplifier delivers 35dB gain and +20dBm P1 output power and comes complete with a manual on-off locking toggle switch for quick application and removal of the amplified signal. A green LED indicates an active unit.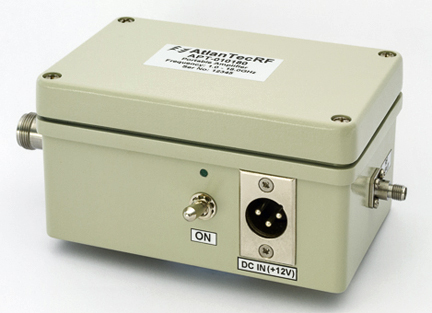 The 12V, 525 mA DC input is applied via a sturdy XLR socket while there is a choice of SMA, Type N or TNC RF connectors in stainless steel with IP rating of IP66/67.
Additional RF specifications include 2.0:1 VSWR, +/-2dB gain flatness and saturated power output of +21dBm. The operating temperature range is -10+60C, making it suitable for uses not only in ambient laboratory conditions but also within temperature test chambers and on outdoor field trials.
This 1-18GHz unit is only one of many typical applications and other versions are available to 40GHz and beyond with customer choice of gain, output power and other key parameters.
Executive Comment
Introducing the product, Geoff Burling, AtlanTecRF C.E.O., said "In many RF and microwave test set-ups, there is a requirement to introduce some positive gain and typical modular systems amplifier packages do not always lend themselves to frequent handing on the bench. This neatly designed and very adaptable unit brings a robust solution to a potentially costly component replacement problem."