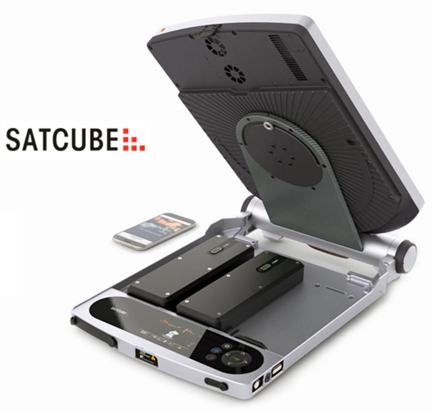 Satcube will feature live demonstrations of its award-winning Satcube Ku satellite terminal during IBC2019, August 13th – 17th.
The lightweight portable terminal is ideal for media organizations, furnishing high-capacity broadband on-the-go for broadcasting live events, any-time. In addition, Satcube's unique carry-and-go solution can provide broadcast teams with a critical tool and bandwidth for supplementing IP infrastructures lacking connectivity where limited or no 3G/4G access is available, ensuring coverage.
With portability comparable to a large laptop, the lightweight Satcube Ku terminal provides user with the ease of using an iPhone and enables access to seamless broadband connectivity in less than a minute, making it easy for organizations and individuals to execute live assignments on the go.

Satcube will exhibit at IBC Expo, RAI Convention Center, Satcube booth in Hall 1, 1-E04 —
Live demonstrations of Satcube Ku connectivity will be featured at partner stand, Broadcast Solutions: Outdoor Exhibits – 0.E02
Jakob Kallmér, CEO, Satcube, said a new generation product, the Satcube Ku portable terminal provides unprecedented connectivity, designed to serve industry verticals and workplaces requiring high-capacity broadband connectivity in hard-to reach locations, such as broadcast media companies on assignment. The company can enable delivery of HD video over the Satcube Ku for live coverage of an event when existing IP solutions lack connectivity or 3G/4G access.