At Broadcast Asia 2016, Hitachi Kokusai Electric (stand 1K2-01) will showcase the company's latest advances in Digital Satellite News Gathering (DSNG) Outside Broadcast (OB) vehicles.
On display for the first time in Asia, the new Hitachi DSNG OB truck offers new levels of operational flexibility, cost-efficiency and technical performance right up to 4K ultra-HDTV capabilities. This versatile DSNG OB truck that has been newly developed at Hitachi's Istanbul-based design and engineering facility is compact and agile and harnesses the latest advances in digital satellite transmitter technology to provide some of the market's most advanced OB facilities.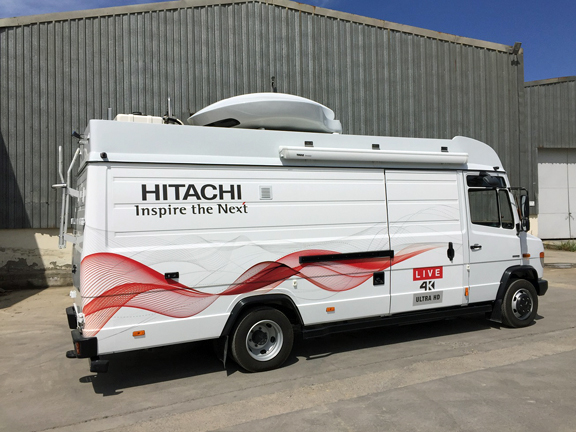 Based on a Mercedes Vario vehicle, the truck can support up to six fiber, wireless system and PTZ cameras. Powerful communication capabilities are provided through a 150 centimeter satellite antenna and a 15 meter heavy duty mast. The vehicle houses more than 1KM of cable on motorized drums—this means that a network of remote cameras can be supported by the truck.
The vehicle provides 220RU of rack space and each truck is specified, designed and manufactured at Hitachi's Istanbul facility to meet the customer's OB needs. The unit provides all of the video, audio, transmission and infrastructure capabilities needed to create a stand-alone outside broadcast facility. The technical specification of the unit is such that it will support any broadcast signal from serial digital to HD and even 4K.
Building on its extensive OB vehicle design heritage, Hitachi has ensured that operational staff of six will feel at home while working in the truck. Attention has been paid to the facility's internal design, monitor and control systems, air conditioning and weather proofing in order to create a comfortable working space irrespective of external environmental conditions. An on-board power generator ensures that the truck can operate anywhere, irrespective of power supply issues.