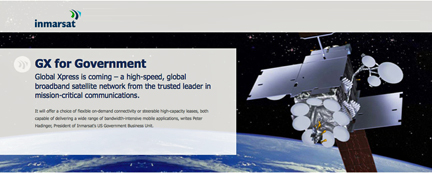 [SatNews] Inmarsat (LSE:ISAT.L) has signed an agreement with Telemar SpA and has appointed the managed satellite services provider as a Value Added Reseller (VAR) for Global Xpress, serving the Government market in Europe.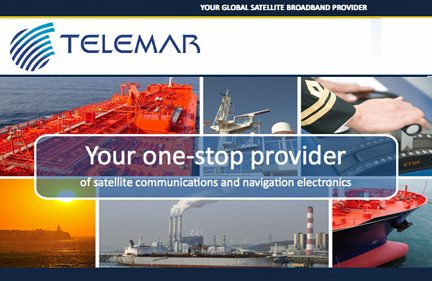 Telemar was established in Italy in 1947 and is one of world's leading international managed satellite service and navigation communications maintenance providers with 14 operating companies in 12 countries. Telemar serves the Maritime, Enterprise and Government markets. In this latter sector, the company addresses the requirements of civilian ministries, navies and other armed forces. Telemar provides end-to-end value propositions on a global scale, which encompass a broad rang e of services from system design for communication and IT solutions through to installation, maintenance and repair. The company has been a successful Inmarsat partner for over 30 years and, in 2012, was appointed as the first GX VAR for the maritime sector.
Global Xpress is the world's first globally available Ka-band mobile broadband satellite network, providing very high bandwidth services to end -users on land, at sea and in the air, delivered through a resilient, secure waveform that is optimized for mobility. Integrated seamlessly with Inmarsat's current L-band network, Global Xpress will ensure reliable communications in support of mission critical operations in the most challenging environments. Inmarsat-5F1, the first Global Xpress satellite, which was launched in December 2013, is on course to enter commercial service by mid-year 2014. The full constellation of three satellites is scheduled to achieve full global coverage by the end of the year.
For more information regarding Inmarsat, please visit http://www.inmarsat.com/about-us/our-satellites/global-xpress/gx-for-government/
Telemar SpA's infosite may be accessed at http://www.telemar.se/