[Satnews] Walton De-Ice announces that more than 190 of its new-generation heating units have been deployed as upgrades by its North American broadcast, cable, and satellite customers to their existing De-Icing systems over the past 12 months.

NBC Universal, Starz, and many other leading satellite operator and teleport facilities are among the numerous broadcast and cable operators who have upgraded their Walton De-Ice systems recently by swapping in Walton's new dual surface igniter heaters to replace older pilot igniter models, according to the company.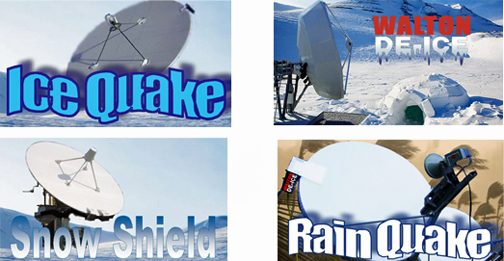 Walton De-Ice will be exhibiting at Content & Communications World (SATCON/CCW) at Booth #619 to showcase the company's latest in gas and electric heated hot-air systems for large antennas, as well as their innovative Ice Quake, and Snow Shield solutions for smaller antennas.
Executive Comment

"Walton's next-gen CE-certified dual hot surface igniter Gas Heating Units have proven to be extremely reliable since their introduction two years ago. Customers have been enjoying great success with these upgrades to their Walton De-Ice Plenum, Snow Shield, and Ice Quake systems," said Ray Powers, VP Sales & Marketing for Walton Enterprises, Inc. "The new heater upgrades to existing De-Ice systems are in addition to the numerous purchases of complete new antenna De-Icing systems such as our unique Plenum Hot Air De-Icing, Snow Shield, and Ice Quake systems this year by major global TV networks, top cable MSOs, and satellite players."