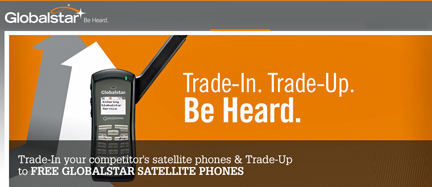 [SatNews] Globalstar, Inc. (OTCQB:GSAT) has announced the automatic conversion of its 8.0 percent Convertible Senior Unsecured Notes, CUSIP number 378973 AB7 ("Securities"), which have an aggregate principal amount outstanding of $37,816,635.
Pursuant to the terms of the Second Supplemental Indenture, as the closing price of Globalstar's common stock exceeded 200 percent of the Conversion Price for a period of 30 consecutive Trading Days, the automatic conversion was triggered. The conversion is effective on the Automatic Conversion Date of April 15, 2014. The
Securities will be automatically converted into Globalstar Common Stock using the current Conversion Price of $1.14. This conversion will result in the issuance of approximately 34 million shares. On and after the Automatic Conversion Date, interest on the Securities shall cease to accrue. Holders must surrender the Securities to the trustee for conversion. The trustee in this matter is U.S. Bank, National Association, located at Corporate Trust Department CN-OH-W6CT, 425 Walnut Street, Cincinnati, Ohio 45202. The shares of Common Stock are expected to be available for delivery to the holders on April 18, 2014.
The Globalstar infosite is located at http://www.globalstar.com/