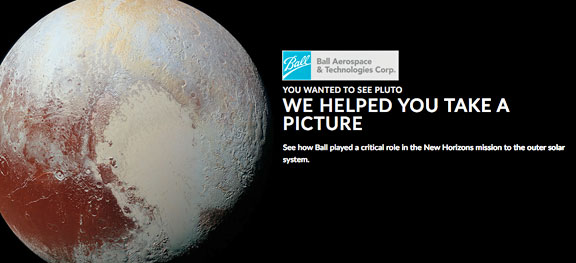 Ball Aerospace has introduced a refreshed, visual identity this week as the company celebrates 60 years in the aerospace industry at the 32nd annual Space Symposium (32SS), April 11-14, 2016, in Colorado Springs, Colorado, and they will be present at booth #523.

The dynamic new look unveils a tagline that embodies the full scope of what Ball does for its customers: Go Beyond™. Every day Ball employees pioneer discoveries that enable customers to perform beyond expectation and protect what matters most. From Earth to space, across oceans, through cyberspace, and alongside warfighters, Ball is ready to help its customers Go Beyond.
Their new branding coincides with the launch of Ball's new website at Ball.com. The website combines parent company Ball Corporation's distinctive brand storytelling with that of Ball Aerospace to better reflect the continually evolving offerings and innovation in both the metal packaging and the aerospace business.

At this year's 32SS, Ball Aerospace leaders will participate in panel discussions that include:

Monday, April 11: Cyber 1.6 Classified: Linkages Between Space and Cyberspace—Steve Smith, VP and General Manager, Systems Engineering Solutions
Monday, April 11: Space Generation Fusion Forum—Interactive Session, Career's Panel – Debra Facktor Lepore, VP and General Manager, Strategic Operations
Tuesday, April 12: Space Warfighters Luncheon—hosted by Ball Aerospace
There's also a new messaging platform being instituted by Ball Aerospace to assist in revealing the entire story of the firm, and one that will also demonstrate the passion and commitment to customers, according to the Vice President and General Manager for Strategic Operations, Debra Facktor Lepore. "We are well known in the aerospace industry for our robust spacecraft, first-class instruments, innovative data solutions as well as advanced technologies for defense, civil and commercial applications," she said.
Ball Aerospace supports critical missions for national agencies such as the Department of Defense, NASA, NOAA and other US government and commercial entities.