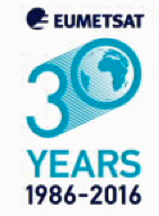 Although EUMETSAT was 30 years old on June 19th, the official commemoration ceremony will occur at EUMETSAT Headquarters in Darmstadt on June 27th and will be followed by a celebratory dinner at the Orangerie of Darmstadt, the location that hosted the first EUMETSAT Council meeting that was organized in1986.
Alain Ratier, EUMETSAT's Director-General, said, "These three decades have seen EUMETSAT evolving into a world-leading operational space agency serving the interests of its Member States and Europe at large, through an increasing portfolio of environmental satellite programs covering geostationary and Low Earth Orbits, including Sentinel missions exploited on behalf of the EU. This success is shared with the European Space Agency and other international partners from Europe and around the world and is also owed to the support of Germany, our host country. This success was achieved by a whole generation of European leaders, engineers, scientists and administrative staff. The attendance of representatives of WMO, Africa, and satellite operators from around the world shows EUMETSAT truly is a trusted global partner. The organization will evolve further in the coming decades and will start to exploit a new generation of innovative satellite systems in the early 2020s."
A series of activities are organized in close cooperation with the city of Darmstadt, including two Open Days to take place at EUMETSAT Headquarters on Friday, June 15th and Saturday, July 16th. The Open Days are supported by the 'Deutscher Wetterdienst' (DWD) and will be opened by the Lord Mayor of Darmstadt.
Anniversary celebrations will conclude in September, during the Annual Meteorological Satellite Conference, which will be held in the 'Darmstadtium' conference centre from September 26th to 30th. Leading scientists will deliver keynote speeches illustrating how observations by meteorological satellites have supported the development not only of meteorological but also climate and oceanographic applications over the years.