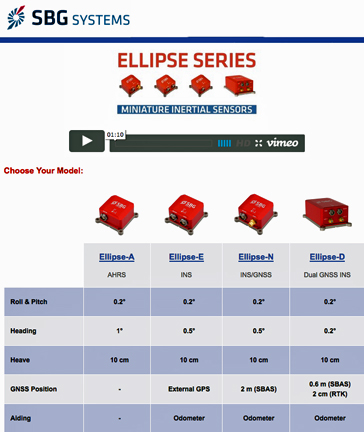 [SatNews] SBG Systems has released their Ellipse Series, a brand new product range of miniature inertial systems replacing the IG-500 Series—for the same budget, customers benefits from higher accuracy, advanced filtering and features inspired from high end inertial navigation systems.
After many years of success and thousands of sensors on the field, the IG-500 Series is being replaced by a brand new generation: the Ellipse Series. This new series of miniature inertial systems benefits from a new design, new sensors, new capabilities, and new algorithms. Weighing from 45 grams, Ellipse sensors are incredibly flexible. The Ellipse-A model provides 3D orientation and heave. For navigation, you can connect your own GPS with the Ellipse-E, or use the internal one by choosing the Ellipse-N model. The amazing Ellipse-D completes this state-of-the-art miniature sensor family. This model is a little larger than the rest of the series because it integrates a Survey-grade L1/L2 GNSS receiver with two antennas for unmatched heading and position accuracy.
Ellipse sensors are extremely rugged to dust, water, and vibrations. The whole Ellipse Series is IP68 and compliant with the MIL-STD810 certification. Its very low noise gyroscopes makes the Ellipse a perfect solution when equipment needs to be stabilized or orientated while the vehicle is moving. These miniature but high performance sensors can be connected to SAASM receiver for accurate and robust position even during GPS outages.
ITAR Free Ellipse A, N, E models are available for order. The Ellipse-D model will be available on Q1 2015. Ordering information is available from SBG Systems representatives and authorized SBG Systems dealers.
For more information about the new Ellipse Series, please visit: http://www.sbg-systems.com/products/miniature-inertial-systems-overview