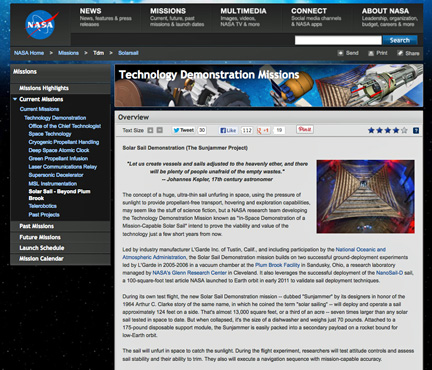 [SatNews] The upcoming Sunjammer solar sail mission will demonstrate "game-changing" space transportation technology—the Sunjammer Mission team includes NASA, lead contractor L'Garde, Inc. (Tustin, CA), Space Services Holdings Inc. (SSHI - Houston, Texas) and Micro Aerospace Solutions (Melbourne, FL), has announced the launch date for the largest solar sail ever deployed—named Sunjammer in honor of legendary science fiction author Sir Arthur C. Clarke.
In a 1963 novella, Clarke christened a solar sailing ship "Sunjammer" as it competed in a cosmic race powered only by the pressure created by photons from the Sun.
Scheduled for launch in November 2014 aboard a Space Exploration Technologies (SpaceX) Falcon 9 rocket, Sunjammer will be launched from Cape Canaveral, Florida. It will be manifested as a secondary payload on the same flight that will launch the Deep Space Climate ObserVeR (DSCOVR) to the Sun-Earth L1 point.
After launch and delivery to "L1" the dishwasher sized spacecraft holding Sunjammer will begin its deployment as it unfurls extending to an area of nearly 13,000 sq ft, about the size of a Space Shuttle. Sunjammer will demonstrate a remarkable new technology—solar sailing—a "propellant-less propulsion" that will transform space exploration and utilization by enabling unprecedented maneuverability at significantly reduced weight and cost.
Sunjammer is an early example of an exciting new class of NASA missions—Technology Demonstration Missions—that focus on promising new space technologies from the lab to flight.
"Our Technology Demonstration Missions are designed to demonstrate through space flight that new technologies are ready to be infused into government and commercial missions," said Michael Gazarik, NASA associate administrator for space technology at NASA Headquarters in Washington. "We're excited about seeing Sunjammer unfurl and successfully sail next year, providing the propellant for its own mission, as well as whole new space mission concepts of the future."
As solar sail technology advances, future sail-enabled missions will accomplish multiple missions currently not feasible for science, commerce, and exploration.
NASA selected the Sunjammer team, led by L'Garde, to employ innovative, fast-track design, manufacturing, and operations techniques that permit, and encourage, the inclusion of commercial best practices while maintaining NASA oversight and expertise. L'Garde's COO, Nathan Barnes, relays that "Sunjammer is the first project incorporating a full use of the private sector by NASA to mature, and make ready for deployment, very narrow, specific, and high-payoff technologies which will be needed for future space exploration and applications. This partnership not only leverages the cost efficiency of private sector small businesses, but also highly leverages the ROI of taxpayer funding."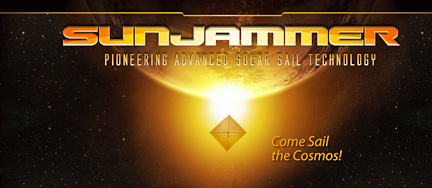 NASA Technology Development Missions encourage the inclusion of infusion partners who can contribute to—and benefit from—the technologies demonstrated. One partner, SSHI, is contributing funding to fly a Celestis Memorial Spaceflight payload aboard Sunjammer, as well as a mission website (sunjammermission.com), and an extensive, privately funded education and public outreach effort—coordinated with NASA—designed to educate the public and raise global awareness about the mission. Two U.K. universities, Imperial College and King's College, have donated two space weather sensors to measure the solar wind. Discussions are underway with the National Oceanic and Atmospheric Administration (NOAA) for an agreement in which NOAA would receive and evaluate mission data to assess the potential for solar sail missions and public/private models to meet NOAA needs for space weather monitoring.
"We are pleased to be on the Sunjammer team, to maintain our long-term interest in, and development of, solar sail enabled missions, and to continue our work with NOAA to develop innovative approaches to commercial space weather services," said Charles M. Chafer, SSHI's CEO.