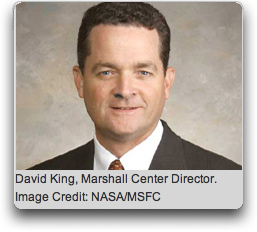 Effective today, David King, director of NASA's Marshall Space Flight Center in Huntsville, Alabama, is retiring from the agency to accept a position as executive vice president of Dynetics in Huntsville.
Robert M. Lightfoot, Marshall's deputy center director, will serve as acting director until a successor is named.
King has been the
center director at Marshall since June 2003
. His departure ends a
25-year career with NASA that began in 1983 at NASA's Kennedy Space Center in Florida, where he served as director of space shuttle processing and shuttle launch director.
"David's expertise and dedication will be sorely missed, not only at Marshall, but across the entire agency,"
NASA Acting Administrator
Chris Scolese
said. "As sad as we are to see him leave, we wish him the very best in all of his future endeavors."
King described his decision to leave NASA as one of the toughest of his professional career. "The opportunities NASA has given me are something most people only dream about," King said. "It was a privilege to work with some of the smartest people in the world for 25 years. I will miss them greatly."
King's acting successor, Lightfoot, has served as Marshall's deputy director since May 2007. A native of Montevallo, Alabama, he has shared responsibility for managing Marshall, one of NASA's largest field centers. The center has more than 8,400 civil service and contract employees performing a wide scope of propulsion, scientific and space transportation activities.
"Robert's experience and leadership skills are exactly what we need to lead Marshall at this critical time," Scolese said. "I'm certain he will do a terrific job in this role as he has in all of his previous positions at NASA."
From 2005 to 2007, Lightfoot served as manager of the Space Shuttle Propulsion Office at Marshall, leading the organization with responsibility for the manufacture, assembly and operation of the primary shuttle propulsion elements: the main engines, external fuel tank, solid rocket boosters and reusable solid rocket motors.
Lightfoot has received numerous awards
during his NASA career, including a NASA Outstanding Leadership medal in 2007 for outstanding and exemplary leadership of the Shuttle Propulsion Office and assuring safety for the shuttle's return to flight.
In 2006, he was awarded the Presidential Rank Award for Meritorious Executives — the highest honor attainable for federal government work.