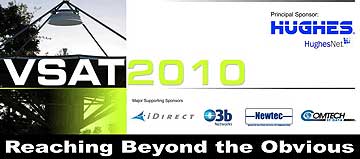 The COMSYS VSAT2010 Conference to take place at the Waldorf Hilton Hotel, London on September 14-17.
This year's theme is Reaching Beyond the Obvious.
Delegate registration is underway, and following the VSAT2009 conference, COMSYS has announced speaker details and conference dates for VSAT2010. 
At VSAT2010 the leading innovators in the VSAT market will deliver their views on the future needs of customers and the development of new applications and platforms. 
Key industry speaker
Paul Gaske
,
Executive Vice President, North American Division,  Hughes, USA
will talk about the practical aspects of providing global and regional services and address the challenges and opportunities for growth.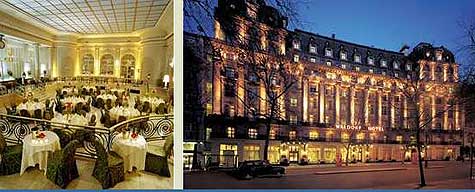 Global speakers include:
Abel Avellan, President, EMC, Germany
Dave Bettinger, CTO, iDirect, USA
Mike Bristol, Senior VP & General Manager, TeleCommunication Systems, USA
Simon Bull, Senior Consultant, COMSYS, UK
Mark Dankberg, CEO and Chairman, ViaSat, USA
Nikita Demidenko, Commercial Director, Dozor Telecom, Russia
David Drucker, Chairman, atContact Communications, USA
Daniel Enns, Senior VP, Strategic Marketing & Business Development, Comtech, USA
Yvon Ferrette, CEO, TesaCom, Argentina
Eugenio Gamboa, Director of Technology, Pegaso Banda Ancha, Mexico
Bertrand Hartman, CEO, OmniAccess, Spain
David Hartshorn, Secretary General, GVF, UK
Serge van Herck, CEO, Newtec, Belgium
Brian Holz, EVP and CTO, O3b Networks, Jersey
Shamanga Ilunga, Senior Manager, Africa Comms NI, Standard Bank, South Africa
Leslie Klein, President & CEO, C-COM Satellite Systems, Canada
Amiram Levinberg, Chairman and CEO, Gilat, Israel
William McKinnell, Vice President, CBM Communications, USA
Olivier Milliès-Lacroix, Commercial Director, Eutelsat, France
Iñigo García del Cerro Prieto, CEO, Ufinet, Spain
Aslan Tricha, Strategic Market Development Director, SES WORLD SKIES, Netherlands
Peter Shaper, CEO, CapRock Communications, USA
Sean Victor, Principal Specialist, Vodacom Business, South Africa
Segment and application specific topics: 
Ka-band Satellite Services and Next Generation Spacecraft for the VSAT Business
Adding Value Beyond Fixed Networking
Maritime VSAT
Global Oil & Gas Networking
Logistics and Network Optimisation
Mesh and Multi-Star Networking
Cellular Extension
Extending Telco Infrastructure
Enabling Mobility
Military Technology and Service Specialisation
SCADA and Alternative Energy Markets
The main conference will be held on 15-17 September 2010 at the Waldorf Hilton Hotel in Central London. 
On the day prior to the main conference – 14th September – COMSYS offers a choice of one day Workshops (VSAT Market & Technology Essentials or Satellite Communications for Non-Technical Professionals). 
You can register
here.