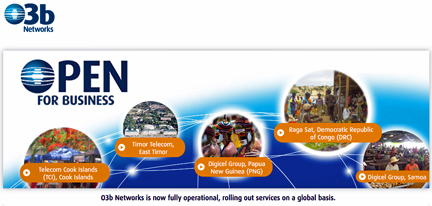 [SatNews] O3b has confirmed that in-orbit testing of its latest satellites has been successfully completed and the satellites have been commissioned into the O3b constellation.
The expanded constellation is now fully operational allowing the company to launch services on a global basis. O3b already has customers in commercial service in markets ranging from the Cook Islands and Papua New Guinea to the Democratic Republic of Congo. Connection to the low latency, high capacity service has allowed O3b's Telco customers to launch 3G mobile voice and data services into markets where only mobile voice services were supported previously.
The reaction to O3b's service to date has been spectacular as service statistics from customer field deployments confirm that O3b is meeting or exceeding its comprehensive Service Level Agreements including link up-time, latency and throughput. O3b's trunking solution, O3bTrunk, is breaking records with satellite links currently supporting more than 600 Mbps into a single site. Several customers have already increased their commitment to O3b, demonstrating an expansion in demand for high performing and appropriately priced services.
Steve Collar, O3b, CEO, said, "The exciting part of our challenge now is keeping up with demand. We have 28 signed customers who are eagerly anticipating service activation and all have heard the reaction from customers already in service. We have created the 'WOW' factor with our early customer service, largely because in today's world of enterprise and consumer applications, the core attributes of O3b's affordable, low latency, high throughput service delivers performance never previously seen over satellite. As one leading CEO from our customer base recently commented 'there is no way back to geostationary—the performance penalty would be too great."
To learn more about O3b Networks, please visit http://www.o3bnetworks.com/