[SatNews] A successful demonstration has shown Inmarsat's new L-TAC service operating in vehicles travelling at speeds of up to 70mph (112km/h).
The service will provide approved government customers with a low-cost Tactical UHF Satellite (TACSAT) capability solution, which allows soldiers on foot or in vehicles to communicate on-the-move, using their existing UHF tactical radios.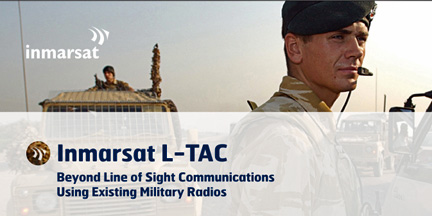 "We have successfully demonstrated robust L-TAC communications from vehicles at speeds up to 70mph," confirmed Andy Start, President of Inmarsat Global Government. "This service will have huge military utility - for example, co-ordinating logistic convoys moving over long distances or for command and control of widely dispersed vehicle patrols manoeuvring in difficult terrain. And our small, lightweight man-pack version offers the same comms-on-the-move capability to dismounted soldiers. This is a real game-changing capability. Convoys and patrols won't have to pause while using their TACSAT, and that means improved tempo and less time spent vulnerable to attack.
Start continued, "We have received very positive feedback during the trial stage and governments around the world have already expressed keen interest in the service. L-TAC will provide a new, innovative and affordable means to gain maximum value from the investment they've made in their existing tactical radios."
Available for order this month and for connectivity in August 2013, Inmarsat's L-TAC service is the next step in the expansion of mobile beyond-line-of-sight (BLOS) communications enabled by our L-band satellites. The service uses smaller antennas than the UHF equivalent, making it practical to offer compact, inexpensive omni-directional antennas for mounted and dismounted use.
TACSAT is in very high demand by government users as it easily and reliably extends tactical push-to-talk radio networks to wide-area BLOS operations, but existing networks are oversubscribed. Inmarsat's L-TAC service will provide additional capacity when UHF channels are unavailable.
To access the service, users require only a small, lightweight adaptor which replaces their existing UHF antenna. Inmarsat has partnered with the Spectra Group to develop the SlingShot™ adaptor, which works with existing tactical military radios and requires minimal additional training to provide BLOS communications without the need for additional infrastructure.