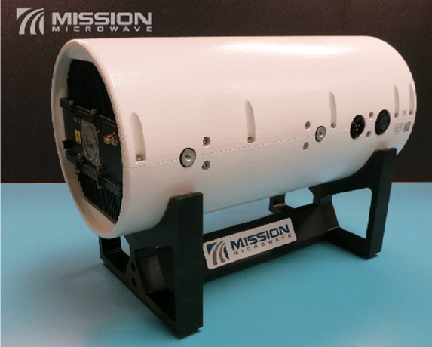 Mission Microwave Technologies has completed the initial delivery and acceptance testing of their 200 Watt Ka-band (30 GHz) Gallium Nitride (GaN) based products for a U.S. based technology integrator.

Mission Microwave is providing individual amplifiers and redundant systems based on its Titan Ka-band BUC. Both Ku- and Ka-band systems are being delivered in support of mobile SATCOM deployable systems. The 200 Watt Ka-band Titan BUC produces more than 100 watts of linear Radio Frequency (RF) power in a 10 kg. package to support mission critical communications, while the Ku-band configuration delivers 200 watts of linear Ku band RF power.
Tactical and commercial customers and their end-users can expect to benefit from continued releases of new Mission Microwave RF products as leading satellite communications systems suppliers incorporate them in their designs for X-, Ku- and Ka-band uplinks for commercial and MILSATCOM applications. As with every Mission Microwave product, these GaN based Ka- and Ku-band BUCs are based on a family of proprietary components and design elements that ensure the products are predictable and reliable in their manufacture, operation and support.