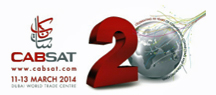 [SatNews] Having helped shape the region's broadcast and satellite industry landscape for two decades, the historic 20th edition of CABSAT, the leading content management event in the Middle East, Africa and South Asia (MEASA), opens on Tuesday, March 11th, 2014, with a strategic new direction endorsed by record participation from more than 900 pioneering exhibitors from over 60 countries.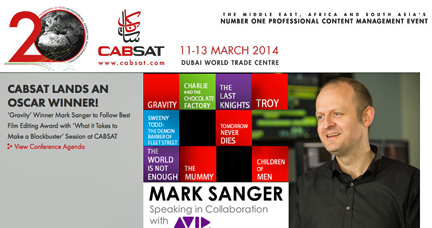 With CABSAT expected to attract 13,000 visitors over three days, the content-rich show will see a world-class line-up of heavyweight industry talent participate in a pioneering conference program; sector-specific industry summits; innovative new demonstration-based features on the show-floor; the release of a new-to-market White Paper from Frost & Sullivan on the burgeoning 'TV-Everywhere' market in the Middle East; as well as dozens of regional and international product launches.
Heading the event's 20th anniversary bill is the inaugural 'CABSAT Conference in partnership with NAB Show', which will see two of the world's biggest industry show brands in their field collaborate on a 20-hour conference programme supporting the 2014 show's governing theme: 'Transforming Broadcasting in the Always Connected Digital World'.
The conference's keynote address, entitled 'The Digital Content Revolution: A World of Opportunity—will be delivered by Shahrzad Rafati, Founder and CEO of BroadbandTV, a leading global media and technology company which generates 1.5 billion monthly views worldwide for partners including the NBA and American cable and satellite television channel, A&E.
At CABSAT, Rafati will also unveil BroadbandTV's plans to expand operations into the GCC by partnering leading regional media companies to manage and monetise both their premium videos and fan uploaded copies of their assets.
"With the online revolution fundamentally changing content creation and consumption around the world, the playing field is now more open and accessible than ever," said Rafati. "As technology continues to innovate, we must watch for the answers it provides to help content creators take back control of their content, engage with their audience and monetise correctly."
Fresh from winning the 'Achievement in Film Editing' Oscar at last week's Academy Awards for his stunning work on the movie 'Gravity', Mark Sanger will chair a conference session entitled 'What it Takes to Make a Hollywood Blockbuster' alongside Tom Cordiner, Vice-President International sales, Avid.
Other eye-catching conference topics include 'Challenge & Opportunities with New Media', 'Taking on the 4K Challenge', 'The Convergence of Telecommunications and Entertainment', 'Impact of Multiplatform Content Delivery in Live Sports Production', 'Data storage and Analytics', 'Maximizing Your Viewership & Commercial Return with Video' and 'Shifting Revenue in a Big Data World'.
With representatives from major international broadcasters and brands including Stargate, FOX, icflix, Manchester United, VIACOM, OSN, Google, the UK's Channel 4, Piksel, STAR Group and CNBC among others participating in conference sessions, CABSAT continues to be a driving force in shaping the regional film, TV, production and broadcast landscape, as well as a key enabler in efforts to make the UAE a destination of choice for the international film industry. In recent years, the UAE has been selected as a shooting location for numerous Bollywood and Asian movies, as well as big budget installments of Hollywood franchise productions such as Mission Impossible 4: Ghost Protocol and Fast & Furious 7. With Government-backed subsidy initiatives encouraging international studios to produce films made in the Emirates, two of the UAE's leading policy-makers in the area, Dubai Film & TV Commission and Abu Dhabi's TwoFour54 media zone, will participate in CABSAT conference sessions entitled 'Opportunities And Challenges In The Middle East And North Africa Media Production Market' and 'Developing Abu Dhabi As A Leading Film And TV Production Destination And Facilitating The Development Of A Sustainable Local Film Industry', respectively.
Elsewhere, the increasingly lucrative TV-Everywhere segment is another hot topic at CABSAT, where Frost & Sullivan, the show's Knowledge Partner, will present a White Paper entitled: 'Industry Outlook on TV-Everywhere in the Middle East'. Available to all delegates, the in-depth report will share key findings, case studies and highlight trends and growth patterns across the regional TV-Everywhere sector. The report, which reveals that the MENA region will be linked through 545 million consumer connected devices by 2020, will also present profiles of various vendors and service providers operating regionally.
Other new CABSAT features in 2014 include the Content Delivery Hub, a dedicated zone for multiscreen digital entertainment solutions and distribution formats, turnkey content sourcing, management and marketing of content. In-line with Frost & Sullivan's White Paper findings on regional usage of connected devices and TV-Everywhere content, the Content Delivery Hub has been earmarked as a strategic growth area for future shows. The dedicated zone will occupy an entire hall as soon as CABSAT 2015.
Elsewhere, the CABSAT Global Meetings Program, an exclusive platform for exhibitors and pre-registered visitors to access a targeted, senior community of MEASA's leading content creators, management and distribution buyers, partners and suppliers. CABSAT Connect, an exclusive, invite-only networking event, will also take place at Jumeirah Beach hotel on Tuesday evening.
"For two decades, CABSAT has been the region's premier platform for the satellite and broadcasting industries and the show will continue to retain a strong focus on these traditional industries. That said, the entertainment and news sectors are evolving rapidly as new connected technology platforms and devices transform the way consumers watch and absorb content. The strategic changes to this year's show mirror the future face of the industry and, as always, are designed to add value for our exhibitors and visitors," said Trixie LohMirmand, Senior Vice President, Exhibitions & Events Management, Dubai World Trade Centre (DWTC), the show organizer.
Open daily from 10:00 a.m. to 6:00 p.m. from March 11th to the 13th, CABSAT 2014 is strictly for trade and business visitors only. For more details, please visit the show's website at http://www.cabsat.com/