[SatNews] A Northrop Grumman Corporation (NYSE:NOC)-built NASA Global Hawk is now...
...conducting science missions to study the impact of atmospheric change on the Earth's climate. The Global Hawk is collecting data and helping scientists learn more about the humidity and chemical composition of air entering the tropical tropopause layer of the atmosphere and its impact on the Earth's overall climate.
The Airborne Tropical TRopopause Experiment (ATTREX) campaign, sponsored by NASA, began on January 16th at NASA's Dryden Flight Research Center at Edwards Air Force Base, California, and will conclude on March 15th. In collaboration with NASA, Northrop Grumman is also providing engineering analysis, mission planning, maintenance, pilots, and flight operations support for these important science missions.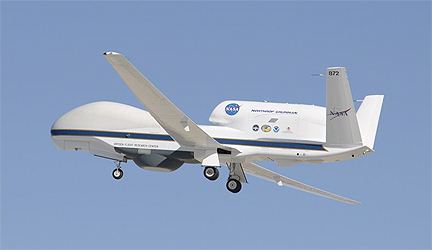 "Global Hawk is able to fly as high as 65,000 feet for periods up to 31 hours, providing the unique combination of high altitude and long endurance performance capabilities that allow the science community to study and deepen our understanding of climate change," said Fred Ricker, vice president and deputy general manager for Advanced Development Programs for Northrop Grumman's Aerospace Systems sector. "Global Hawk is the only aircraft able to repeatedly access the atmosphere above and below the tropopause layer, and it can do that over thousands of miles."
NASA's ATTREX multiyear campaign is studying the region of the upper atmosphere where pollutants and other gases enter the stratosphere and potentially influence climate. Studies have shown that even small changes in stratospheric humidity may cause climate impact that is more significant than the impact of greenhouse gases.