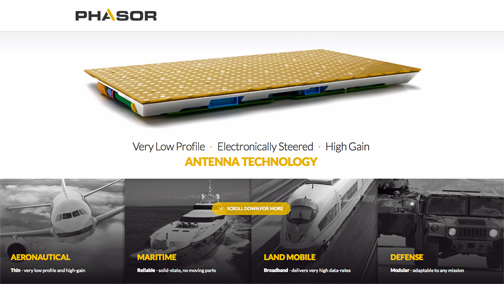 [SatNews] Phasor has been awarded a two million euros grant by the SME Instrument of the European Commission's Horizon 2020 Program in recognition of the breakthrough technology that the company has developed and to assist in the product commercialization for the market .
Phasor's advanced state-of-the-art system will enable broadband communications to aircraft, ships at-sea, high-speed rail and other vehicles in-motion.
Horizon 2020 is the largest EU Research and Innovation program ever created, with nearly 80 billion euros of funding available over its seven year life; (2014 to 2020). The program promises more breakthroughs, discoveries and world-firsts by enabling small,innovative companies to commercialize their great ideas and to then deliver them to the market. This is an extremely competitive process and awards are made after extensive critical assessment by technology and market experts. Only the best applications succeed, with typical honors to but one in 20 applications.
Phasor is now in the commercialization and productization stage, taking the tested and proven technology to commercial launch over the coming quarters. The antenna's small size and low profile allow for easy integration onto vehicle structures. Being fully electronic, the antenna will be able to seamlessly and reliably steer beams to both Geo-Synchronous (GEO) and Low Earth Orbit (LEO) communications satellites. The unique design and scalability of the Phasor antenna will allow service providers and vessel/fleet operators to create very high gain antenna arrays with superior RF performance, resulting in dramatically higher speed broadband connectivity, at a much lower installation and operating cost.
David Helfgott, CEO of Phasor, said, "Phasor is dedicated to enabling mobile broadband communications. Our patented modular and conformal technology allows true broadband service for the first time to almost any vehicle in motion, especially in remote areas."
Phasor's initial products will launch in the prevalent commercial SATCOM frequency—Ku-0band. Phasor is also looking to expand into additional frequency bands, as market demand directs development, including Ka- and X-bands.