Spacecom (Tel Aviv Stock Exchange: SCC), operator of the AMOS satellite fleet, and hiSky Ltd., a provider of affordable satellite-based voice and data communications, have announced a cooperation agreement to provide affordable, low-capacity voice, data MSS (Mobile Satellite Services) and satellite IoT (Satellite Internet of Things) services in the Middle East via AMOS 17's Ka-bands and hiSky's newly developed Smartellite family™ satellite terminals.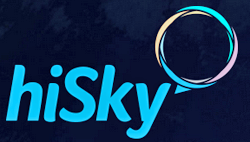 Using AMOS-17's Ka-band beams, hiSky's Smartellite Family solution includes a compact portable SIoT device based on Electronically Steered Antenna (ESA) technology, to provide low data rate services for various applications such as connected vehicles, trains, the energy and agricultural sectors in remote areas.
The Smartellite Family are small, lightweight, and portable. With a built-in electronic pointing antenna, the units automatically locate the satellite in milliseconds. The secure integrated modem is designed for low and medium data rate and includes easy to use management tools.
Yaron Shachar, Chief Business Officer of hiSky, said that the company's Smartellite Family, together with AMOS-17, will provide significantly lower prices than the market currently offers. hiSky is continuing to develop new product lines to meet customer needs and just released the new Smartellite Static for fixed IoT sensor connectivity based on the firm's core technology and integrated with the hiSky modem network solution.
Jacob Keret, SPV of Sales at Spacecom, added that AMOS-17's full digital HTS technologies will provide a wide of array of service capabilities and allows for the combination of Spacecom's classic satellite bandwidth product offering with end to end communication services throughout Africa, the Middle East and Europe. hiSky's innovative offering is an exciting solution for applications in remote locations, for Satellite-On-The-Move (SOTM) and brings the company into IoT markets.