Comtech Telecommunications Corp.'s Santa Clara, California-based subsidiary, Comtech Xicom Technology, Inc., which is part of Comtech's Commercial Solutions segment, has made public their new GaN-based, Ku-band solid-state power amplifier (SSPA) that packs a tremendous amount of power into a compact 48-pound (22 kg.) antenna-mount outdoor unit (ODU).
This highly efficient SSPA incorporates an optional L- to Ku-band block upconverter (BUC) and provides 200 watts of linear output power in a package designed to handle tough environments and meet stringent Ku-band RF requirements.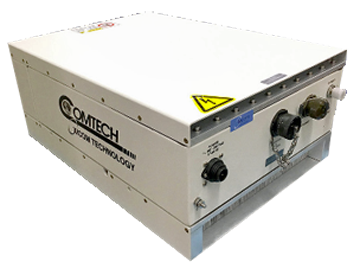 Using the latest in high-efficiency GaN semiconductor technology, Model XTSLIN-200K-B1 delivers 200 Watts of linear power across the SATCOM Ku-band (13.75 - 14.5 GHz) on only 1600 Watts of prime power draw, making this unit the most efficiently operating SSPA in the industry. The small package measures only 8 (H)x14 (W)x19 inches (L) (20.32x36.53x48.26cm) and is designed for outdoor use in challenging environments operating over a temperature range of -40 degrees C to +60 degrees C using forced air cooling. The monitor and control (M&C) interface provides a component system status via Ethernet or RS-485 and RS-232 and supports a range of redundancy control schemes. Variable phase-shift combining (VPC) systems using these SSPAs are also available to achieve even higher power with non-interrupting soft-fail continuous phase operation, eliminating cut-outs and long reacquisition periods.
The company has also released their new 1250 Watt power amplifier for Direct Broadcast Satellite (DBS) SATCOM uplink applications.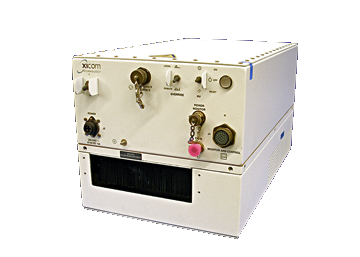 The new traveling wave tube amplifier (TWTA) joins Comtech Xicom Technology's highly-efficient product line and represents the best technology available to the DBS SATCOM market. Model XTD-1250DBSHE is a high efficiency, 1250-Watt power amplifier in the same package as the traditional 750-Watt power amplifier. This new DBS-band TWTA provides the user with 525-Watts of linear power for Direct-to-Home (DTH) SATCOM in a compact, ruggedized package designed for high reliability outdoor applications.
A third offering from the company has also been released — a new 250-Watt V-band amplifier for SATCOM HTS gateway service.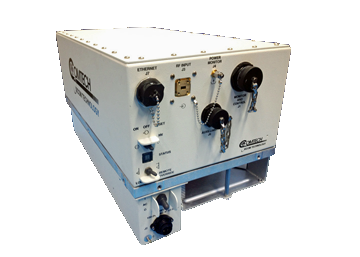 This unit is antenna mounted at the feed to minimize path loss. Power combining and redundancy architectures are also available.
Industry analysts at NSR believe V-band ecosystem could generate more than $25 billion in cumulative revenue by 2030 — Comtech Xicom Technology's new TWTA amplifier Model XTD-250QV2 is designed to meet this emergent market demand.
Mark Schmeichel, SVP and GM for Comtech Xicom Technology Inc. stated that this is the lightest and most efficient 200-Watt linear Ku-band SSPA available in the marketplace, with linear performance equal to, or better than, much more expensive, larger, and heavier 500 Watt GaAs SSPAs. The size and weight advantages are particularly appealing for transportable requirements such as Satellite News Gathering (SNG). Additionally, customers have been asking for an upgrade path for the widely deployed 750 Watt family of amplifiers. The company can now offer a form, fit, function replacement with significantly higher power in a similar size configured package. Plus, the company has developed a Q/V-Band amplifier with more than 4 GHz of bandwidth to enable high-throughput gateways in proximity to Ka-band remote users. Comtech Xicom is driving the market to embrace this new band that capitalizes on available spectrum to deliver high quality and economical customer experiences.
Hardware, test data and additional information will be available to system integrators by visiting Comtech Xicom Technology representatives in Booth 313, at Satellite 2018, March 13-15, in Washington, DC.