During the upcoming NABSHOW in Las Vegas, Nevada, in booth SU6921, Quintech has product presentation plans.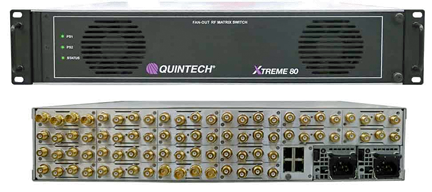 One of the products on display for the company will be the XTREME 80 next-generation L-band matrix switch that features 80 ports in a compact 2 RU chassis. The XTREME 80 is a full fan-out (distributive), non-blocking switch where an input can be routed to any or all outputs. The XTREME 80 features an industry exclusive flexible matrix architecture (patent pending) that supports both symmetric and asymmetric configurations of 80 combined inputs and outputs in a single chassis. Asymmetric configurations such as 16x64, 8x56, and more can be implemented as well as the standard 32x32 configuration. It is designed for maximum reliability with redundant power and control cards. The switch features:
950-2200 MHz frequency range
Compact modular design up to 80 ports in 2 RU, expandable to 16x1024
Asymmetrical configurations up to 64 outputs in a single chassis
Adjustable gain and attenuation on all inputs allows the user to adjust the input signal level for optimum performance
Adjustable gain on all outputs allows the user to set the output signal level for their high power receivers and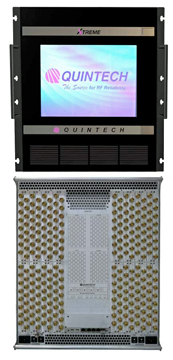 Also prominently displayed at the show will be Quintech's XTREME 256 Matrix Switch, which defines the next-generation of L-band matrix switching systems featuring up to 256 ports in a compact 12 RU chassis. The system is a full fan-­out, non-­blocking L-­band RF Matrix Switch, whereas any input can be routed to any or all outputs. Advanced RF design and power management methods allow the XTREME​ 256 to achieve industry leading gain flatness and linearity ​for maximum RF performance while cutting power consumption by up to 80 percent. The system brings expansion by reduction ​and allows the user to minimize rack unit (RU) space requirements with its highly scalable packaging. The switch features a flexible matrix architecture (patent pending) that supports a variety of large symmetric ​such as 128×128 ​or industry exclusive asymmetric configurations ​such as 48×208, 64×192, 160×96 all in a single chassis. The XTREME​ 256 also supports multi-chassis architecture expansion up to 2048×2048.
Other large configuration legacy matrix switching systems literally require kilometers of coaxial cable and thousands of watts of power to operate. Using built­-in splitter/combiner technology, the XTREME​ 256 offers very large configuration system sizes such as 16×496 to 256×256 without use of external expansion modules. Because system size does matter, the switch liberates legacy systems' RU footprints by as much as 75% and the number and length of cables and connections by up to 97 percent. Features include...
950-2150 MHz frequency range
Compact modular design up to 256 ports in 12U, easily expandable to 2048 x 2048
Asymmetrical configurations up to 248 outputs in a single chassis
Extremely flat over any 40 MHz channel (+/- 0.2 dB typical)
Adjustable gain and attenuation on all inputs allows the user to adjust the input signal level for optimum performance