[SatNews] Accion Systems Inc. recently announced a $2 million seed round to support product development and initial sales of its ion electrospray propulsion technology.
The round was led by FF Science and included RRE Ventures, SDF Ventures, Founder Collective, Galvanize Ventures, Samuel Lessin, Slow Ventures, Tim Tokarsky, Rene Reinsberg, Marek Oszlewski, GettyLab and TechU Angels.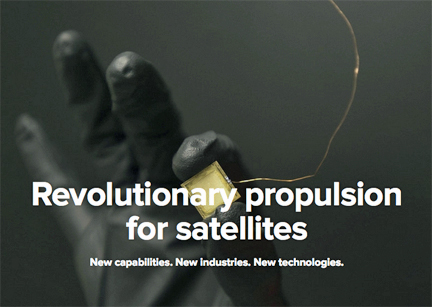 Accion develops advanced electric propulsion systems that provide critical capabilities for small satellites. Over the past year, the team has started taking pre-orders for their first product, which is in development and will launch later this year. Accion CEO and founder Natalya Brikner said, "Our unique propellants and novel manufacturing techniques let us break from slow, expensive aerospace tradition and leverage advances in areas such as 3D printing and nanofabrication".
This round of fundraising will support product development and sales, R&D into next-generation materials and manufacturing techniques, and hiring. Accion is currently looking for engineers, materials scientists and a sales and business development person. Interested candidates can apply at http://www.accion-systems.com/.