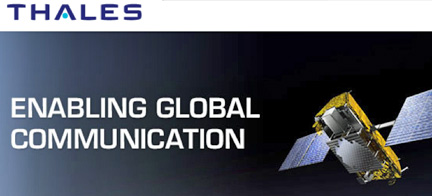 [SatNews] Thales Alenia Space has signed a contract with Russian operator Gazprom Space Systems (GSS) to build the Yamal-601 telecommunications satellite, which will provide fixed communications, broadcast and Internet access services.
Thales Alenia Space won the contract from Gazprom in competitive international bidding.
As program prime contractor, Thales Alenia Space is in charge of the design, production, testing and turnkey delivery of the satellite and its associated ground segment. The satellite will be launched by International Launch Services (ILS) on a Proton rocket. Based on the Spacebus 4000C4 platform, Yamal-601 will carry 18 C-band transponders, 19 Ku-band transponders and 26 Ka-band transponders focusing on Russia. It will weigh more than five metric tons at launch, with 11 kW of payload power and a design life exceeding 15 years. It will replace the Yamal-202 satellite, offering extended coverage of Europe, the Middle East, North Africa, south and southeast Asia, from its orbital position at 49 degrees East.
Along with the construction of the Yamal-601 satellite, which should take about 26 months, the Gazprom contract included a skills transfer plan, providing for training of GSS staff by Thales Alenia Space engineers, to enhance their expertise in different space industry disciplines.
Thales Alenia Space' infosite is available at this direct infosite link.