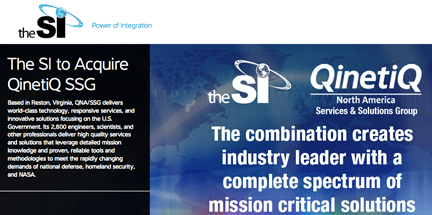 [SatNews] The SI Organization, Inc. (the SI) has signed a definitive agreement to acquire QinetiQ North America Services and Solutions Group (QNA/SSG), a provider of differentiated, engineering services and solutions to the U.S. Federal Government.
The combination of the SI and QNA/SSG brings together two highly complementary companies, each a recognized leader in systems engineering and integration, engineering services and solutions, and creates an organization uniquely qualified to meet the market demand for technology-enabled offerings in the areas of cyber security, analytics, software development and IT solutions. This transaction will create a geographically dispersed organization of 4,800 employees with revenue of approximately $1.3 billion from across a broad spectrum of government customers.
Based in Reston, Virginia, QNA/SSG delivers world-class technology, responsive services, and innovative solutions focusing on the U.S. Government. Its 2,800 engineers, scientists, and other professionals deliver high quality services and solutions that leverage detailed mission knowledge and proven, reliable tools and methodologies to meet the rapidly changing demands of national defense, homeland security, and NASA.
"The acquisition of QNA/SSG accelerates the SI's vision to be a leader in the design, development, integration and operation of complex, mission-critical information systems across the government. This transaction creates an opportunity to greatly scale our presence in market adjacencies such as DoD, DHS, NASA and federal civilian agencies. QinetiQ North America SSG has an exceptional, customer-focused team and we are excited to welcome them to the SI's family." said Mac Curtis, CEO of the SI.
The transaction is subject to customary closing conditions, including the receipt of regulatory approvals in the U.S. The transaction is expected to close in the second quarter of this year.
The SI Organization's infosite is located at.