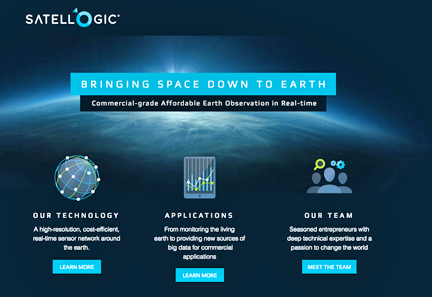 [SatNews] Satellogic, a multinational company that is building the first distributed satellite platform connected via a mesh network that will monitor the living Earth in real time, has announced that its first commercial-grade, high-resolution imaging satellite is being shipped from Patagonia to Russia's launch base Yasny for a midsummer rocket launch.
This will be Satellogic's third satellite launch. The company launched its first satellite, CubeBug1, in April of 2013 and its second, CubeBug2, in November of 2013 for orbital testing of the components and science. Satellogic builds its satellites from scratch, with the latest available components and its own proprietary actuator, sensor, and camera technologies. Its platform will allow for an unprecedented number of imaging and data streams for industries that include Agriculture, Oil & Gas, and Government, as well as solutions to monitor environmental changes on earth.
By building a network of inexpensive satellites from the ground up and creating a distributed sensor mesh, Satellogic will generate new data streams in real time at a fraction of the traditional cost. The company has gained support from NASA engineers including John Hines, former Chief Technical Officer for the NASA-Ames Research Center (ARC), and is approaching the market differently by developing new applications, identifying new earth observation customers, and creating new streams of data with its technology.
Configured in a mesh topology, each satellite will constantly communicate with other satellites in the network. This is a key differentiator, because satellites travel over the earth at 16,000 miles per hour and are connected to a ground station for only 30 minutes each day, and this constant communication results in near-to-real-time imaging capabilities, greatly reducing the amount of time it takes to get information to the ground.
"Traditional satellite technology is archaic and the few players that dominate the satellite servicing market have not varied their manufacturing for many years. Many still use components that are 40-plus years old," said Emiliano Kargieman, founder and CEO of Satellogic. "Our team set out to look at satellite technology as well as Earth imaging and data stream delivery from the software developer's perspective. We questioned whether lean innovation and the engineering of distributed systems could be applied to satellite technology development and disruption of the industry. Our notions are proving to be correct, and we see the launch of this satellite as a historical first in the industry and a celebration of many milestones ahead."
More information is available at the Satellogic infosite: http://www.satellogic.com/