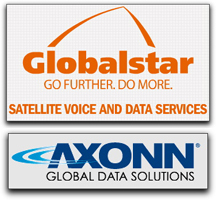 Globalstar, Inc. (Nasdaq:GSAT) and its wholly owned subsidiary, Spot LLC, have acquired substantially all of the assets of Axonn, L.L.C. (Axonn).
Axonn
is a developer and manufacturer of high quality and affordable satellite GPS asset-tracking and messaging products, including Globalstar's award-winning consumer retail device, the
SPOT Satellite GPS Messenger
(TM).
Axonn also designs and markets enterprise products which utilize the highly reliable Globalstar Simplex data network, including the
AXTracker
(TM) and
SMARTONE
asset-tracking solutions. Axonn is also the designer and manufacturer of the
STX2
Simplex data transmitter, which is the world's smallest industrial-use satellite Simplex transmitter. The STX2 provides developers of asset tracking, data monitoring and messaging solutions with a small but affordable way to integrate Globalstar satellite data network connectivity into their product solutions. The STX2 is an integral piece of every current M2M Simplex data device that uses the Globalstar network.