Providing critical hardware for the United Launch Alliance (ULA) Atlas V vehicle and NASA's Geostationary Operational Environmental Satellite-R Series (GOES-R) NASA weather satellite that was launched on Saturday, November 19th, from Cape Canaveral Air Force Station, Florida, was Orbital ATK (NYSE: OA).
Using advanced fiber placement manufacturing and automated inspection techniques, Orbital ATK produced three components for the ULA Atlas V vehicle, including the 10-foot diameter composite heat shield that provides essential protection to the first stage engine, the Centaur Interstage Adapter that houses the second stage engine, and the boattail that adapts from the core vehicle to the five-meter diameter fairing. Orbital ATK fabricated these structures at its Iuka, Mississippi, facility. This is the 66th Atlas V launch using Orbital ATK-built composite structures.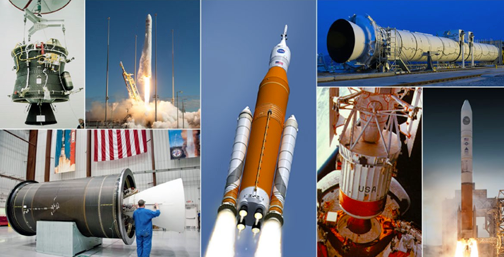 This flight also marked the 32nd successful flight of the Orbital ATK retrorocket motors. Eight of these solid motors supported separation of the spent first stage. The Atlas V retrorocket is built by Orbital ATK's Defense Systems Group at its facility in Elkton, Maryland. In addition, Orbital ATK manufactured the Reaction Control System propellant tank for the ULA Atlas V at their Commerce, California, facility.
NASA's GOES-R is the nexgen of geostationary weather satellites and the first of four in the planned constellation. The GOES-R series satellites will contribute to more accurate and reliable weather forecasts and severe weather outlooks via continuous visual and infrared imagery and atmospheric measurements of Earth's Western Hemisphere, total lightning data, solar imaging and space weather monitoring. NOAA manages the GOES-R program with an integrated NOAA-NASA program office organization co-located at NASA's Goddard Space Flight Center in Greenbelt, Maryland.
The company's Space Components Division facilities in Maryland, California and Utah provided numerous subsystems for the GOES-R satellite, including loop heat pipes for thermal control of the Advanced Baseline Imager (ABI) and Global Lightning Mapper (GLM) instruments, fuel, oxidizer, and pressurant tanks, the primary bus structure, also containing thermal control elements, and three optical bench stable structures supporting the ABI and Solar Pointing Platform (SPP). Orbital ATK also provided a coilable lattice boom for the GOES-R Magnetometer, continuing the success of company-built booms on previously launched GOES-N, -O and -P satellites.